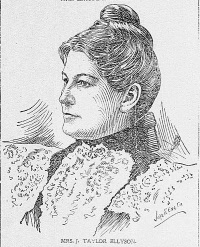 Lora Effie Hotchkiss Ellyson (19 April 1848–23 March 1935), historic preservationist, was born in Broome County, New York, and was the daughter of Nelson Hill Hotchkiss and Harriet Russell Hotchkiss. During her childhood, the family moved to neighboring Delaware County and then to Augusta County, Virginia, where her father and her uncle, Jedediah Hotchkiss, opened Loch Willow Academy, which she attended. It closed during the Civil War and they moved to Albemarle County, where on 2 December 1869, she married James Taylor Ellyson, a member of a prominent Richmond family. They had one daughter, who married Frank Thomas Crump, longtime treasurer of the Baptist General Association of Virginia. At the time of their marriage, Ellyson owned a book and stationery store. He later entered politics and served in the Senate of Virginia for one four-year term beginning in 1885, as mayor of Richmond from 1888 to 1894, and lieutenant governor from 1906 to 1918.
While her husband moved up the political ladder, Ellyson participated in memorial organizations, chief among them the Association for the Preservation of Virginia Antiquities (APVA; later Preservation Virginia). Established by a group of Virginia women in 1889, the APVA acquired and preserved colonial-era buildings, monuments, and cemeteries in the state, including the 1607 settlement site at Jamestown Island and the powder magazine at Williamsburg. Ellyson became a vice president in 1896 and early in the 1900s she served as acting president when APVA president Isobel Lamont Stewart Bryan could not undertake all of her duties as a result of poor health. Ellyson worked to prepare the organization for the tercentenary celebration of Jamestown in 1907. Following Bryan's death in September 1910, Ellyson was named associate president, and then on 4 January 1911 she was elected president, a post to which she was reelected annually until her death.
The association went through difficult financial times during World War I, and in 1920 the General Assembly appropriated $10,000 to help the APVA maintain and preserve Jamestown. During Ellyson's tenure the number of visitors to the island increased, including a visit by President Warren G. Harding and his wife in 1921. Desirous of correcting misconceptions that New England was the birthplace of the United States, the APVA and Ellyson stressed the primacy of Jamestown. She spearheaded an effort to install a tablet at Blackwall, in London, from which the Susan Constant, Godspeed, and Discovery set sail for America in 1606. In 1926 she received the Hyde-Campbell Loving Cup from the United Daughters of the Confederacy for winning its essay contest with her description of the founding of Jamestown, which was published as The First Permanent English Settlement in America. The APVA installed markers to commemorate events in Virginia's early history and purchased and maintained buildings around the state, including the Mary Washington House and the Rising Sun Tavern in Fredericksburg, the Debtor's Prison and Clerk's Office at Eastville, the lighthouse at Cape Henry, and Smith's Fort Plantation in Surry County. The APVA also restored and refurnished the John Marshall House in Richmond and converted the Old Stone House in Richmond into a memorial for Edgar Allan Poe. Through the preservation of such sites, Ellyson and the APVA sought to promote a version of Virginia's history that emphasized the virtues and traditions of elite white Virginians.
By 1890 Ellyson had joined the Ladies' Hollywood Memorial Association that cared for the graves of Confederate soldiers in Richmond's Hollywood Cemetery. When Varina Howell Davis, widow of Confederate president Jefferson Davis, died in 1906, Ellyson appointed a committee of eight women, including herself, to attend the funeral. For more than a decade Ellyson served as a vice president of the association, and on 11 June 1928 she was unanimously elected president.
She was also a member and supporter of the Confederate Memorial Literary Society, which was established in 1890 to save the White House of the Confederacy from destruction. The society transformed it into the Confederate Museum (later the Museum of the Confederacy) as a monument to the Lost Cause in which Civil War relics from the former Confederate states were displayed. As vice regent of the Virginia Room for more than thirty years, Ellyson was responsible for receiving and documenting the donated artifacts related to Virginians in the Civil War.
While her husband served as lieutenant governor, Ellyson performed such ceremonial tasks as hosting receptions at their home and at the Virginia Executive Mansion. At his death on 18 March 1919, she inherited his estate worth $41,000. After several years of failing health, Lora Effie Hotchkiss Ellyson died of cancer at her Richmond home on 23 March 1935. She was buried in the family plot in Hollywood Cemetery. Representatives from the APVA, Ladies' Hollywood Memorial Association, and Confederate Memorial Literary Society, as well as the Virginia chapters of the United Daughters of the Confederacy, Colonial Dames, and Daughters of the American Revolution attended her funeral, and the Confederate Museum flew its flag at half-staff. In May 1935 a memorial service was held at the Jamestown church in recognition of her work.

Sources Consulted:
Birth date on Death Certificate, Richmond City, Bureau of Vital Statistics, Record Group 36, Library of Virginia; Marriage Register, Albemarle Co., Bureau of Vital Statistics, Record Group 36, Library of Virginia; probable autobiography, n.d., supplied to Sue Ruffin Tyler for "The Women of Virginia" project, Tyler Family Papers, Group D, Earl Gregg Swem Library, College of William and Mary, Williamsburg, Va.; John William Leonard, ed., Woman's Who's Who of America (1914–1915), 275; Association for the Preservation of Virginia Antiquities Records (1890–1974), Accession 32900, Library of Virginia; Hollywood Memorial Association Collection and Ellyson-Hotchkiss Family Collection, both Museum of the Confederacy, Richmond, Va.; some Ellyson correspondence in various collections at Virginia Historical Society, Richmond, Va.; James M. Lindgren, Preserving the Old Dominion: Historic Preservation and Virginia Traditionalism (1993); Caroline E. Janney, Burying the Dead but Not the Past: Ladies' Memorial Associations and the Lost Cause (2008); obituaries in Richmond News Leader 23 and 25 Mar. 1935 and Richmond Times-Dispatch 24 (portrait) and 25 Mar. 1935; memorial in Southern Magazine 2 (May 1935): 45.
Image courtesy of the Library of Virginia.

Written for the Dictionary of Virginia Biography by Alyssa Toby Fahringer.
How to cite this page:
>Alyssa Toby Fahringer,"Lora Effie Hotchkiss Ellyson (1848–1935)," Dictionary of Virginia Biography, Library of Virginia (1998– ), published 2015 (http://www.lva.virginia.gov/public/dvb/bio.asp?b=Ellyson_Lora_Effie_Hotchkiss, accessed [today's date]).

Return to the Dictionary of Virginia Biography Search page.