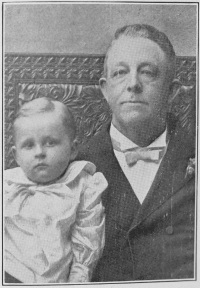 Tipton Tinsley Fishburn (20 November 1849–11 April 1921), banker and civic leader, was born in Franklin County and was the son of Samuel Fishburne, a farmer, and Frances Tinsley Fishburne. He attended an academy until it was forced to close during the Civil War. In February 1868 Fishburne moved to Big Lick, in Roanoke County, where he worked in one of the town's leading mercantile establishments. He considered preparing for the Methodist ministry, but early in 1872 he returned to Franklin County and with two other men opened a general merchandise business in Rocky Mount.
The following winter Fishburne decided to seek his fortune in Iowa and disposed of his interest in the Rocky Mount store, but while en route passing through Big Lick his valise was stolen. The delay proved fortuitous when he met a former employer who offered to sell him a tobacco factory there. Arranging with one of his brothers and another man to buy the property, in 1873 he established Fishburne Brothers & Taylor. Fishburne remained at the head of the factory through various partnerships until 1892, when he sold his interest. He also acquired a share of a general store that operated as Taylor & Fishburne Brothers until 1879, when he sold his interest in that enterprise. For reasons unknown, late in the nineteenth century Fishburn and other members of his family dropped the e from their surname.
Elected to fill a vacancy on the town council in December 1880, Fishburn took his seat on 8 January 1881 and served until 2 July. The Shenandoah Valley Railroad desired to extend into the coalfields and planned a junction with the Norfolk and Western Railroad. Anxious that Big Lick benefit from the line's expansion, the council in February 1881 appointed Fishburn to a committee formed to communicate with the SVR. After the council realized that it lacked the authority to raise funds to attract the railroad, Fishburn and other businessmen devised a plan to secure Big Lick as the site of the junction. He may have been the first to pledge a subscription toward $10,000 intended to assist the SVR in obtaining rights of way and defraying other expenses. The contribution sealed the town's selection as the terminus and transformed the area into a burgeoning industrial and commercial center. In 1882 Big Lick was enlarged and renamed Roanoke. Fishburn reportedly suggested the new name at a town meeting called for that purpose. In 1884 Roanoke gained city status, and during that decade it numbered among the fastest-growing urban areas in the region.
Fishburn joined a group of other businessmen seeking to establish a railroad line between Roanoke and what became Winston-Salem, North Carolina. In 1886, when the Roanoke and Southern Railway Company was incorporated, its charter named Fishburn as one of the commissioners. In 1892 the line opened for traffic.
Fishburn organized the National Exchange Bank, which was incorporated on 7 May 1889 with capital stock of $100,000. As the bank's first president, he steered it safely through difficult times. During the financial panic of 1893 Fishburn called a meeting of other area bankers and arranged to ship a gold deposit to the United States Treasury, which, in combination with efforts by other banks across the country, helped stabilize the nation's credit. In 1905 he resigned the presidency and then for nearly a decade served as both vice president of the bank and chairman of its board. Fishburn chaired the bank's board of directors only from about 1915 until just before his death, when he relinquished that office to return as vice president. His nephew, Junius Blair Fishburn, succeeded him as bank president in 1905 and as chair of the bank's board of directors in 1920.
Fishburn engaged in various other enterprises, including serving as vice president and treasurer of the Virginia Bridge and Iron Company, president of First Union Savings Bank, president of the Roanoke Twine Mills Corporation, and president of the Stone Printing and Manufacturing Company, and he presided over or sat on the boards of several other businesses. He led efforts to establish and maintain Roanoke Hospital (later Carilion Roanoke Memorial Hospital), officiated at its dedication ceremonies, and served as president of the Roanoke Hospital Association. As school board president for at least ten years, Fishburn is credited with laying the foundation of the city's public school system. He also provided generous support to Southern Seminary (later Southern Virginia University), a Buena Vista school for girls.
In 1882 Fishburn joined the Greene Memorial Methodist Church, where he established a Sunday school and served as its superintendent. Accompanied by his nephew Blair Joshua Fishburn, he took an extended trip to the Holy Land and Europe in 1892, after which Fishburn lectured about visiting biblical sites and began conducting revival meetings. As a licensed lay minister and evangelist, he attended meetings of the Baltimore Conference of the Methodist Episcopal Church South and such General Conferences as the one held in Saint Louis in May 1890. He also attended the 1911 Ecumenical Conference in Toronto, Canada. Soon after founding the National Exchange Bank, Fishburn had become embroiled in a lawsuit attempting to oust the saloon next door. In the autumn of 1903 he won election as chair of the Roanoke Anti-Saloon League, immediately called for a local option, and undertook an aggressive though unsuccessful campaign against liquor trafficking and the opponents of prohibition.
Fishburn married California "Callie" Lucretia Greer, of Charleston, Illinois, on 1 October 1874. They did not have children but later adopted a son. On 11 April 1921 Tipton Tinsley Fishburn died at his home of carcinoma of the stomach. He was interred in Evergreen Burial Park, in Roanoke.

Sources Consulted:
Biographies in South-West Virginia and the Valley (1892), 113–115 (with birth date and surname as Fishburne), George S. Jack, History of Roanoke County, and E. B. Jacobs, History of Roanoke City and History of the Norfolk and Western Railway Company, (1912), esp. 167–168 (with portrait and surname as Fishburne), and Millard Rewis Jr., His New Creation: A History of Greene Memorial Methodist Church (1859–1959)… (1959), 47–50 (portrait on 47); Marriage Register (with surname as Fishburn), Roanoke Co., Bureau of Vital Statistics (BVS), Commonwealth of Virginia Department of Health, Record Group 36, Library of Virginia; Roanoke City Council Minutes, 22 Dec. 1880–2 July 1881, City Clerk's Office, Roanoke, Va.; Raymond P. Barnes, A History of Roanoke (1968), esp. 73, 85, 186–187, 225, 281, 341, 590 (with erroneous death date of 11 Oct. 1921); Rand Dotson, Roanoke, Virginia, 1882–1912: Magic City of the New South (2007), 55, 81, 211–215; Death Certificate No. 8978 (with birth date and surname as Fishburn), Roanoke City, BVS; Evergreen Burial Park records and gravestone (with surname as Fishburn); death notice in Washington Post, 12 Apr. 1921; obituaries in Roanoke World News, 11 Apr. 1921, and Roanoke Times, 12 Apr. 1921.
Image courtesy of the Library of Virginia.

Written for the Dictionary of Virginia Biography by Donald W. Gunter.
How to cite this page:
>Donald W. Gunter,"Tipton Tinsley Fishburn (1849–1921)," Dictionary of Virginia Biography, Library of Virginia (1998– ), published 2016 (http://www.lva.virginia.gov/public/dvb/bio.asp?b=Fishburn_Tipton_Tinsley, accessed [today's date]).

Return to the Dictionary of Virginia Biography Search page.