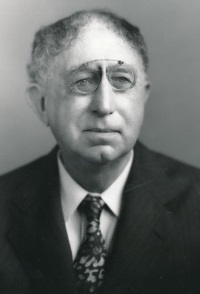 Hamilton James Eckenrode (30 April 1879–27 September 1952), historian and archivist, was born James H. Eckenrode and was the son of Hamilton John Eckenrode and Mary Elizabeth Myer Eckenrode, of Fredericksburg. He graduated from Fredericksburg College in 1898, and spent one year at the University of Virginia taking courses in chemistry, English literature, geology, and Greek before entering the Johns Hopkins University. There he received a doctorate in history in 1905 following publication the previous year of his dissertation, The Political History of Virginia during the Reconstruction.
Late in the 1890s he adopted the name Hamilton James Eckenrode and usually identified himself professionally as H. J. Eckenrode. He never married. Eckenrode taught history and civics at Tempe Normal School of Arizona (later Arizona State University) during the 1905–1906 academic year and then in March 1906 returned to Virginia to head the department of archives and history at the Virginia State Library (later the Library of Virginia), in Richmond. As the library's first archivist, Eckenrode organized reference files for archival and manuscript collections and completed installation of the library's exhibition at the 1907 Jamestown Ter-Centennial Exposition. He directed the cataloging and indexing of nearly 25,000 legislative petitions for the period 1775–1861. As a supplement to the state librarian's annual report for 1908 Eckenrode published a 302-page calendar of the petitions from eleven counties, but he was not able to complete the planned series of index volumes. His Separation of Church and State in Virginia: A Study in the Development of the Revolution (1910) was based in part on his research done while overseeing archival work on the petition collection, as was his later monograph, The Revolution in Virginia (1916). Eckenrode compiled a two-volume List of the Revolutionary Soldiers of Virginia (1912–1913) that contained references to state and federal archival records documenting their service.
He and State Librarian Henry Read McIlwaine disagreed about how much of Eckenrode's time should be diverted from archival work to historical research and writing, and in October 1914 Eckenrode resigned. From 1914 to 1916 he taught economics and history at Richmond College (later the University of Richmond), and from 1917 to 1926 he was an editor at B. F. Johnson Publishing Company, a Richmond publisher of schoolbooks. The company issued his Life of Nathan B. Forrest (1918), a book for children, as well as his innovative Told in Story: American History (1922), a slender volume intended to interest young readers in early American history through excerpts from fiction. Eckenrode also directed the acquisition of information on camps and cantonments in the state for the Virginia War History Commission, which collected documents and data about Virginians' participation in World War I.
In 1927 William Edward Carson hired Eckenrode to head the division of history for the new State Commission on Conservation and Development (after 1938 the Virginia Conservation Commission). With the title of state historian, Eckenrode researched and wrote numerous articles for newspapers and magazines promoting Virginia's history as part of the commission's campaign to stimulate state tourism, including the 1931 sesquicentennial celebration of the victory at Yorktown. The most innovative and important project in which he was engaged was the highway historical marker program, the first large-scale effort of its kind in the country. Eckenrode and a staff that eventually included three others conducted the research for and directed the placement of nearly a thousand markers throughout the state to commemorate the formation of counties and cities and the sites of pivotal events in Virginia's colonial, Revolutionary War, and Civil War history. During World War II, Eckenrode and his staff began assembling data for marking the burial sites of distinguished Virginia political and military leaders, a project that was still underway when he retired but was never completed.
Eckenrode continued writing about history while working for the Johnson Publishing Company and for the commission. With the exception of a textbook, This Government (1938), he wrote for popular audiences rather than for students or scholars. Eckenrode's Jefferson Davis: President of the South (1923) and later books fit into the historical writing of the period that emphasized heroism and sacrifice during the Civil War, minimized the importance of slavery, and promoted national reconciliation. Asked to contribute to a biographical series on American political leaders, he enlisted a research assistant, Pocahontas Wilson Wight Edmunds, for Rutherford B. Hayes: Statesman of Reunion (1930). Edmunds also assisted with his biography of a railroad tycoon, E. H. Harriman: The Little Giant of Wall Street (1933). In collaboration with Bryan Conrad, a commission colleague, Eckenrode wrote James Longstreet: Lee's War Horse (1936) and George B. McClellan: The Man Who Saved the Union (1941). Reviewers in historical journals sometimes criticized Eckenrode's literary style and the absence of source citations and bibliographies. They also correctly characterized his books as distillations of existing scholarship. Reviewers praised his Bottom Rail on Top: A Novel of the Old South (1935) for avoiding the popular romanticizing of the antebellum South, but its main characters are in fact caricatures of familiar stereotypes from romantic novels.
Eckenrode was active in a Richmond writers' club in the 1930s, published occasional short works of fiction in local and regional journals, and wrote one play that was performed in the city. In that decade he served on the state advisory committee of the Historic American Buildings Survey, and during the 1940s he was a member of the state's World War II History Commission. He published his last book, The Randolphs: The Story of a Virginia Family, in 1946 and retired effective 1 January 1949. Hamilton James Eckenrode died in Richmond on 27 September 1952 and was buried in the Fredericksburg City Cemetery.

Sources Consulted:
Pocahontas Wight Edmunds, "Hamilton James Eckenrode: 'State Historian of Virginia,'" Richmond Quarterly 6 (winter 1983): 38–46; Birth Register, Fredericksburg, 1879, Bureau of Vital Statistics, Record Group 36, Library of Virginia; self-reported birth date of 30 Apr. 1879 in World War I Selective Service System Draft Registration Cards (1917–1918), Record Group 163, National Archives and Records Administration, Washington, D.C.; variant self-reported birth year of 1881 in Eckenrode's personnel file, correspondence, and working files in Department of Conservation and Economic Development, Division of History, Record Group 18, Library of Virginia (online finding aid); other correspondence in Pocahontas Wight Edmunds Papers and several book MSS, all Small Special Collections Library, University of Virginia, Charlottesville, Va.; State Librarian Annual Reports, 1906–1915; Richmond News Leader, 13 Nov., 3 Dec. 1948; State Historical Markers of Virginia, 6th ed. (1948); Highway Historical Markers Records (1928–1968), Record Group 35, Library of Virginia; obituaries in Richmond Times-Dispatch, 28 Sept. 1952, and Fredericksburg Free Lance-Star and Richmond News Leader, both 29 Sept. 1952; editorial tribute in Richmond Times-Dispatch, 30 Sept. 1952.
Image courtesy of the Library of Virginia, Visual Studies Collection.
Written for the Dictionary of Virginia Biography by Brent Tarter.
Cite this page:
>Brent Tarter,"Hamilton James Eckenrode (1879–1952)," Dictionary of Virginia Biography, Library of Virginia (1998– ), published 2015 (http://www.lva.virginia.gov/public/dvb/bio.asp?b=Eckenrode_Hamilton_James, accessed [today's date]).

Return to the Dictionary of Virginia Biography Search page.