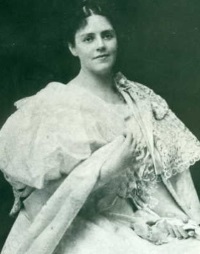 Betty Ellison Withers Putney (11 March 1858–27 March 1918), woman suffrage activist, was born in Campbell County, Virginia, and was the daughter of Mary Virginia Royall Withers and Robert Enoch Withers, a physician who served as colonel of a Confederate infantry regiment, lieutenant governor of Virginia from 1874 to 1875, and member of the Unites States Senate from 1875 to 1881. Known as Ellie throughout her life, she grew up in Danville, in Lynchburg, on a Russell County farm, and in Wytheville after the Civil War. On 7 November 1877 in Alexandria she married Stephen Putney, a widower with four daughters and one son. He was a member of a wealthy Massachusetts family but had lived in Richmond for several decades and owned the large Stephen Putney Shoe Factory. They lived in Richmond and had one son and two daughters, one of whom died in childhood.
Heritage Organizations
Putney enjoyed the same activities as other women of high social standing. She attended debutante functions, weddings, football games, and horse shows, and she traveled with her husband. Putney also participated in philanthropic and social activities related to helping the sick, improving education, and honoring men who fought for the Confederacy. She served as an officer of the Confederate Memorial and Literary Society, which established what later became the Museum of the Confederacy. On behalf of the Ladies' Hollywood Memorial Association, she successfully lobbied the General Assembly for money to care for the graves of Confederate soldiers buried in Richmond's Hollywood Cemetery. Putney and others also received the assembly's authorization to erect a statue, for which she had raised funds, in Capitol Square honoring Hunter Holmes McGuire, a prominent Richmond physician. Putney was a member of the Daughters of the American Revolution and served as secretary of the Virginia State Society; treasurer of Old Dominion chapter in Richmond; a charter member of Commonwealth chapter in Richmond; and regent, vice regent, and chaplain of Stuart chapter in Wytheville, which she helped organize. She joined the Richmond chapter of the United Daughters of the Confederacy while living in the capital city and later served as president of the Wythe Grey chapter in Wytheville.
Suffrage Activism
Not long after her husband died on 23 November 1905, Putney moved to Wytheville, where she was a founder of the Wytheville Woman's Club. She applied the leadership and oratorical skills she had gained from her social activities to the suffrage movement. In October 1912 Putney hosted two of the most prominent suffrage speakers in the state, novelist Mary Johnston and Equal Suffrage League of Virginia president Lila Hardaway Meade Valentine. They organized the Wytheville Equal Suffrage League, and the thirty-five founding members elected Putney president. She served until her death six years later and increased membership to sixty in 1915. A few days after founding the Wytheville league, Putney, Johnston, and Valentine spoke at the courthouse in Abingdon.
In February 1913 Putney addressed an Equal Suffrage League meeting at its headquarters in Richmond. She spoke in Warrenton in June when one hundred women formed a suffrage league there. At the state convention in October, Putney suggested that members of the league procure "Votes for Women" stamps and use them on their checks to raise awareness of their cause. She was a state vice president of the Equal Suffrage League of Virginia from 1912 to 1915, an honorary vice president until 1917, and a delegate to state conventions. She was also named a delegate to the National American Woman Suffrage Association's convention in 1912.
At a February 1914 hearing of Committee on Privileges and Elections of the House of Delegates, Putney asked members how opponents could not trust women to vote when they had trusted women to be wives and mothers. She asserted that the suffrage movement began at the end of the Civil War when many women had sacrificed everything and were forced to break from tradition and become wage earners to support their families. She told the legislators, "After this is adopted—as it will be, whether you want it or not—you will wonder how you ever got along without us…." Later in the year she addressed audiences in Emory, Martinsville, and Dublin, and she spoke at the Equal Suffrage League's state convention in Roanoke.
At a mass meeting in Richmond in February 1915, Putney made a plea for a woman's inherent right to care for her children, noting that many families faced inadequate housing and that women had to work in factories. She argued that working women needed suffrage for their protection. In December 1915 she marched with two hundred other suffragists to the governor's office to ask him to support an equal suffrage amendment to the Virginia constitution. Putney and Valentine spoke to the state central committee of the Democratic Party in March 1916 to request that the forthcoming state convention endorse woman suffrage. A Richmond newspaper reported that Putney thanked the committee members for their respectful reception, "expressing the hope that the members, besides standing up for them, will also stand by them in their fight for the ballot." The Democratic Party of Virginia did not endorse woman suffrage until 1920.
Betty Ellison Withers Putney died of acute Bright's disease (kidney failure) on 27 March 1918, in Baltimore, Maryland, while visiting her daughter. She is buried alongside her husband in Hollywood Cemetery.

Sources Consulted:
Birth date in Robert Enoch Withers (father), Autobiography of an Octogenarian (1907), 13, and Franz V. Recum, Withers—America, or A Collection of Genealogical Data Concerning the History of the Descendants in the Male Line of James Withers (1680/1–1746) of Stafford County, Virginia (1949), 175, with place of birth but incorrect Wytheville place of marriage; some letters in Withers Family Papers, Kegley Library, Wytheville Community College, and in Equal Suffrage League of Virginia Records, Accession 22002, Library of Virginia; Alexandria City marriage license; Alexandria Gazette, 8 Nov. 1877; Richmond Times-Dispatch, 13 Feb. 1914 (first quotation); Richmond Times-Dispatch, 14 Feb. 1915, 23 Mar. 1916 (second quotation); City of Baltimore Health Department Certificate of Death; obituaries in Baltimore Sun, 28 Mar. 1918 and Richmond Times-Dispatch, 28 Mar. 1918.
Image courtesy of Putney Family Private Collection.

Written for the Dictionary of Virginia Biography by Nancy Alexander Simmons.
How to cite this page:
>Nancy Alexander Simmons, "Betty Ellison Withers Putney (11 March 1858–27 March 1918)," Dictionary of Virginia Biography, Library of Virginia (1998– ), published 2018 (http://www.lva.virginia.gov/public/dvb/bio.asp?b=Putney_Betty_Ellison_Withers, accessed [today's date]).

Return to the Dictionary of Virginia Biography Search page.