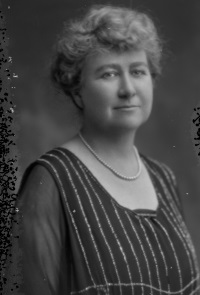 Agnes Dillon Randolph (12 July 1875–3 December 1930), nurse and tuberculosis treatment advocate, was born in Albemarle County, Virginia, and was the daughter of Agnes Dillon Randolph and Civil War veteran and farmer William Lewis Randolph, a direct descendant of Thomas Jefferson. The record of her birth indicates that she was born Eliza C. Randolph, and she was listed as Elizabeth R. Randolph in the 1880 census. Her mother died of tuberculosis when she was four years old, and during the 1880s she or her father changed her name to Agnes Dillon Randolph. It is likely that the name change was to honor her mother and that Randolph's lifetime work battling tuberculosis was a direct result of her mother's death from the disease. It is not clear that even her close associates knew of this aspect of her life history since later summaries of her life do not mention it. She was educated at the school located at Edgehill, the Randolph family estate in Albemarle County, and at Patapsco Institute, in Ellicott City, Maryland. In 1898 she graduated from the Virginia Hospital Training School for Nurses, in Richmond.
Randolph worked as a private nurse before she became superintendent of the Virginia Hospital Training School for Nurses in 1900. She resigned briefly in 1901–1902 as a result of poor health, but returned to the post, which she held until 1904. After suffering a breakdown not described in extant documents, she took a business course and worked for a New York publishing company. Randolph resumed her position at Virginia Hospital in 1910 and remained superintendent until it closed in the summer of 1913. She then became superintendent of nurses at Richmond's Memorial Hospital, but in 1914 had to step down in favor of a male superintendent.
Randolph was executive secretary of the Virginia Anti-Tuberculosis Association (later known as the Virginia Tuberculosis Association) from 1914 to 1919. She directed a comprehensive tuberculosis survey of Norfolk County in 1917, the first in Virginia and the preliminary step toward a statewide educational campaign. In 1918 she was also an unpaid, part-time lecturer on tuberculosis at the newly opened Richmond School of Social Work and Public Health (later Richmond Professional Institute and still later Virginia Commonwealth University). She lobbied Virginia's General Assembly to appropriate funds for tuberculosis prevention and treatment, and she was, during her life and after, acknowledged as formidable and persuasive in both her personal appeals and her numerous speeches on behalf of the professionalization of nursing and tuberculosis-related initiatives.
At the time Randolph worked to combat tuberculosis (also known as consumption and as the White Plague), it was regarded as a virulent bacterial disease transmitted through personal contact. In 1909, 5,000 Virginians were reported to have died from the disease, and about 20,000 were estimated to be infected with the bacillus in 1910. Treatment then for tuberculosis (now known to be through antibiotics) consisted of fresh air, rest, a healthy diet, avoidance of alcohol and tobacco, a clean environment, and residence in a sanatorium. Randolph followed the medical beliefs of the time and worked to ensure that both black and white tubercular patients received the full range of medical care, although African Americans had few options for treatment in Virginia other than the segregated mental hospital near Petersburg, the state penitentiary, and facilities for indigent residents of Norfolk and Richmond.
Randolph believed strongly that African Americans who suffered with tuberculosis deserved treatment. She spoke on the topic at meetings of the Negro Organization Society and after her presentation in 1914 the society endorsed her proposal for a state-operated sanatorium. Largely as a result of her efforts, the General Assembly appropriated the funds to purchase a 310-acre farm near Burkeville, in Nottoway County, for a sanatorium, which was believed to be the first such state facility for African Americans in the United States. Piedmont Sanatorium opened on 22 April 1918 and under its director, Dr. Harry Gilmore Carter, also became a center for training African American nurses to care for tuberculosis patients. Piedmont's first building (no longer standing), with twenty-five beds, was named in Randolph's honor. It quickly became clear that Piedmont needed even more space for patients, and Randolph raised $5,000 through the Virginia Tuberculosis Association for a second building that was completed in September 1918.
Likely as a result of her advocacy work, Randolph came to believe in the importance of voting rights for women. She was an eager supporter of the Equal Suffrage League of Virginia after it was founded in November 1909. Early in 1912 she joined league president Lila Hardaway Meade Valentine and other members in addressing the Committee of Privileges and Elections of the House of Delegates in favor of an unsuccessful proposal to amend the state constitution to grant women the right to vote. Three years later, while attending the Equal Suffrage League's annual convention, Randolph and other members met with and urged the governor to support woman suffrage. She remained active in suffrage work, and in 1918 represented Madison Ward on the executive council of the Equal Suffrage League of Richmond. She kept her focus on eradicating tuberculosis and in 1914 encouraged the Richmond league to help with her campaign. In 1916 she prepared posters that artist and suffragist Adèle Clark illustrated for display in the Equal Suffrage League's Richmond headquarters during Anti-Tuberculosis Week.
During World War I, Randolph served as the head of the public health department for the Virginia Women's Committee of the Council of National Defense. When the influenza epidemic broke out in 1918, she supervised the Richmond emergency hospital at a local high school and became ill. She subsequently moved to Bisbee, Arizona, where her brother worked at a hospital. After her recovery, Randolph was superintendent of Copper Queen Hospital, in Bisbee, and in December 1919 helped organize and was the founding president of the Arizona State Nurses' Association. By October 1920 she was working as a field secretary with the Texas Public Health Association and lobbied for a bill to establish a sanatorium there for African American tubercular patients.
Randolph returned to Virginia early in 1921 to take office as the director of the Bureau of Tuberculosis Education at the State Board of Health. The bureau conducted field clinics around the state, registered patients to direct their care outside of the sanatoriums, and conducted educational campaigns and school nutritional classes. As director she also developed out-patient tuberculosis treatment options. Randolph was credited with the genesis of Virginia's so-called tuberculosis tax, money used to fund tuberculosis-related facilities and treatment as well as with helping establish a preventorium to provide special care for children and the nurses' training school at Catawba Sanatorium, which had been founded in Roanoke County in 1909 for white patients.
In 1901 Randolph had been a charter member of the state association of nurses that in 1903 became the Graduate Nurses' Association (later the Virginia Nurses' Association). She served as its president from 1911 to 1913 (it endorsed woman suffrage in 1912) and again from 1924 to 1926. The organization was among the earliest nursing associations in the United States and in 1903 it successfully lobbied the General Assembly to create a State Board of Examiners of Graduate Nurses (later the Virginia Board of Nursing) to license nurses, one of the first four such boards in the country. In 1912 Randolph advocated financial assistance to help Virginia nurses who, through their work, had become physically incapacitated or disabled. In the 1920s she spearheaded the group's drive to raise $50,000 for a chair of nursing at the University of Virginia. The efforts paid off in 1928 when the university offered its first bachelor of science degree in nursing education to train registered nurses for teaching, administration, or supervision. The university's School of Nursing and the Eleanor Crowder Bjoring Center for Nursing Inquiry sponsor the Agnes Dillon Randolph Lecture and Award and host the Agnes Dillon Randolph International Nursing History Conference.
In a letter written to the president of the Graduate Nurses' Association of Virginia approximately a year before her death, Randolph recommended that pioneers and dreamers work to enhance the field of nursing and described her own views as "radically different from that of the rest of the nurses." Randolph's leadership and contributions to reducing the rate of tuberculosis in Virginia by half in fifteen years guaranteed her long-lasting renown.
Agnes Dillon Randolph died on 3 December 1930 of cardiac failure at a Richmond hospital. Her unexpected death was front-page news, and she was widely eulogized and praised as a "Health Pioneer" with tremendous energy who worked for the greater good "against unlovely conditions." The Graduate Nurses' Association passed resolutions acknowledging her as the "originator" of most of its "outstanding achievements." Like many professional women of her time, Randolph never married and had no children. At her funeral service at Saint Paul's Episcopal Church in Richmond her thirty-two pallbearers (both active and honorary) included the governor and several prominent medical doctors. She was buried in the Jefferson family cemetery at Monticello, in Albemarle County. The Medical College of Virginia (later part of Virginia Commonwealth University) erected Randolph-Minor Hall in honor of Randolph and nurse Nannie Jacquelin Minor in 1952. It was later demolished, but a different campus building was given the same name.

Sources Consulted:
Biography in Meta Rutter Pennock, Makers of Nursing History: Portraits and Pen Sketches of One-hundred and Nine Prominent Women (1940), 105 (portrait); feature article in Richmond Times-Dispatch, 10 June 1927 (portrait); birth date and name Eliza C. in Birth Register, Albemarle Co. Bureau of Vital Statistics (BVS), Commonwealth of Virginia Department of Health, Record Group 36, Library of Virginia; some correspondence, including Randolph to S. Virginia Thacker, 6 Sept. 1929 (first quotation), in Virginia Nurses Association Records, Tompkins-McCaw Library, Virginia Commonwealth University, Richmond; annual reports as director of the Tuberculosis Education Bureau in Virginia State Board of Health, Annual Reports (1921–1930); BVS Death Certificate, Richmond City; obituaries in Richmond News Leader (second quotation) and Richmond Times-Dispatch, both 4 Dec 1930, Virginia Medical Monthly 57 (1941): 704; editorial tributes in Richmond News Leader, 4 Dec. 1930 (third quotation), and Richmond Times-Dispatch, 5, 10 (fourth quotation) Dec. 1930.
Image courtesy of Virginia Historical Society.
Written for the Dictionary of Virginia Biography by Leila Christenbury.
How to cite this page:
>Leila Christenbury, "Agnes Dillon Randolph (1875–1930)," Dictionary of Virginia Biography, Library of Virginia (1998– ), published 2019 (http://www.lva.virginia.gov/public/dvb/bio.asp?b=Randolph_Agnes_Dillon, accessed [today's date]).

Return to the Dictionary of Virginia Biography Search page.