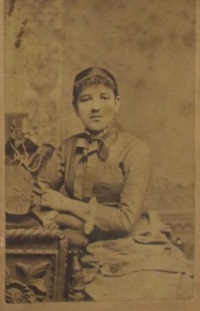 Ida Mae Thompson (7 November 1866–24 July 1947), woman suffrage activist, was born at Drakes Branch in Charlotte County and was the daughter of John Henry Thompson, a Confederate veteran and dry goods merchant, and Sarah Ellen Facer Thompson. After her father's death in 1886, she, her mother, and younger brother moved to Richmond, where she found work as a typist and stenographer, eventually in the office of Dr. Landon B. Edwards, editor of the Virginia Medical Monthly and secretary of the Medical Society of Virginia. Thompson never married.
Equal Suffrage League
By the autumn of 1914 Thompson had begun working in the office of the Equal Suffrage League of Virginia, where she later became the headquarters secretary. In her forties, she threw herself into the work, typing letters, ordering supplies, scheduling speaking engagements, and mailing broadsides and bulletins to local leagues. In 1916 the league reported that it had mailed 809 postcards and written 7,924 letters in addition to distributing 100,849 leaflets in Richmond. While activists like Lila Hardaway Meade Valentine and Adèle Clark fought for woman suffrage in public, Thompson dealt with a variety of practical concerns and unpleasant tasks behind the scenes. She called the landlord when the rent was raised for the state headquarters and tracked down a handyman when the roof leaked. Thompson also served on the league's Victory Liberty Loan Committee in 1919. She filled pages of dime-store notebooks with her neat script, usually writing with a well-sharpened pencil. Thompson used the backs of envelopes and outdated letterhead stationery to record information, make notes, and copy addresses. Her task was an important one—to keep the Equal Suffrage League's state headquarters running smoothly and to preserve the history of the league.
League of Women Voters
The Equal Suffrage League disbanded after women won the vote in 1920 with ratification of the Nineteenth Amendment. Thompson later collaborated with Clark and Edith Clark Cowles to draft the Virginia chapter for Ida Husted Harper's portion of the multivolume History of Woman Suffrage (1922). In the autumn of 1920 Thompson and many other suffragists organized the Virginia League of Women Voters to educate and inform the electorate. She became executive secretary of the Richmond league on 8 December 1920 and subsequently was also named executive secretary of the Virginia league. She contributed recipes when the league compiled the Virginia Cookery Book: Traditional Recipes (1921), dedicated to Lila Meade Valentine and designed as a fundraiser for the league's efforts to promote education and good citizenship. The book also served as a reminder that "the woman voter is none the less the efficient housewife." In 1936 Thompson worked with Clark, then president of the Virginia league, on the program committee for the unveiling ceremony of a memorial plaque to Valentine in the Virginia Capitol.
Thompson made her voice heard in actions and words. On behalf of the Virginia League of Women Voters she wrote a letter that was published in the Richmond Times-Dispatch on 13 February 1922 praising Virginia's state senators for unanimously voting to accept the provisions of the Sheppard-Towner Maternity and Infancy Act, thereby allowing the state to receive federal funds for women's health programs. Women's groups had lobbied for the legislation, which was intended to combat high mortality rates among mothers and newborns. In 1925, as the Democratic primary race for governor was underway, Thompson published a letter in the Richmond Times-Dispatch in support of G. Walter Mapp and challenged Harry Flood Byrd's statement that he had not voted against the ratification of the Nineteenth Amendment but had been absent when the vote was taken. She explained she was in the Senate gallery and that "Mr. Byrd certainly did vote for this resolution of rejection." Thompson continued, "I have my records made that day, and I think all of the newspapers of Richmond in recounting the vote cast, printed his name as having voted 'aye' on the resolution of rejection of ratification." She also cited the vote from the Senate Journal. Byrd defeated Mapp in the primary and was elected governor in November.
In 1929 Thompson joined in petitioning the city council to purchase land to expand the public library. She took the Richmond Times-Dispatch to task in August 1933 after an article about the defeat of Emma Lee Smith White, a member of the House of Delegates from Mathews County, failed to mention Helen Timmons Henderson in its list of Virginia's female legislators.
WPA Historical Records Survey
During the 1930s Thompson worked as a clerk for the United States Department of Labor's National Reemployment Service and as senior clerk and research worker for the Works Progress Administration's Historical Records Survey under the direction of Lester J. Cappon. In that capacity she wrote scores of letters to former suffrage workers asking them to send her records of their work. In more than one letter she wrote, "We want any data that will help to make a complete history of the suffrage movement in Virginia." The Historical Records Survey collected more than 25,000 items, including correspondence, annual and financial reports, publications, press releases, lists of officers and members, and campaign buttons and ribbons. Previously, Thompson and other former Equal Suffrage League officers had given their banners and flags to the governor, but they were lost after the state museum where they were displayed later closed. Thompson preserved the correspondence and other records, including a suffrage correspondence-school textbook with her name and address penciled inside the front cover, and donated them to the Virginia State Library (later the Library of Virginia) in 1942. In large part thanks to her efforts, the records and the history of Virginia's woman suffrage movement survive.
About that time Thompson retired as secretary of the Virginia League of Women Voters. She continued to serve on the advisory board of the Richmond league, for which she also chaired the legislative committee during the 1930s and 1940s, monitoring legislation of interest to the league in the General Assembly. Thompson was active in Grace Baptist Church and volunteered as a hostess at the museum at the Home for Needy Confederate Women, into which she moved in 1938. Suffering from valvular heart disease, Ida Mae Thompson died there of bronchopneumonia on 24 July 1947. She was buried alongside the bodies of her mother and brother in Richmond's Hollywood Cemetery.

Sources Consulted:
Biography in Jennifer Davis McDaid, Virginia Cavalcade 49 (2000): 94–95 (portrait); birth and death dates on gravestone; correspondence, notebooks, and notes in Equal Suffrage League of Virginia Records, Accession 22002, Library of Virginia (LVA), Richmond, including Thompson to Mrs. Walter Tipton, 19 Feb. 1937 (third quotation); correspondence in Adèle Goodman Clark Papers, Cabell Library, Virginia Commonwealth University, Richmond, and in National American Woman Suffrage Association Records, Library of Congress, Washington, D.C.; Virginia Cookery Book: Traditional Recipes (1921), first quotation in Foreword on unnumbered page 11; Richmond Times-Dispatch, 13 Feb. 1922, 20 July 1925 (second quotation), 14 Sept. 1927 (feature article), 31 Aug. 1933; Death Certificate, Richmond City, Bureau of Vital Statistics, Commonwealth of Virginia Department of Health, Record Group 36, LVA; obituaries in Richmond News Leader, 25 July 1947, Richmond Times-Dispatch, 26 July 1947, and reprinted in Charlotte Gazette, 14 Aug. 1947.
Image courtesy of Special Collections and Archives, James Branch Cabell Library, Virginia Commonwealth University Libraries.
Written for the Dictionary of Virginia Biography by Jennifer Davis McDaid.
How to cite this page:
>Jennifer Davis McDaid, "Ida Mae Thompson (1866–1947)," Dictionary of Virginia Biography, Library of Virginia (1998– ), published 2018 (http://www.lva.virginia.gov/public/dvb/bio.asp?b=Thompson_Ida_Mae, accessed [today's date]).

Return to the Dictionary of Virginia Biography Search page.