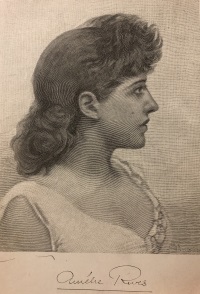 Amélie Louise Rives Chanler Troubetzkoy (23 August 1863–15 June 1945), writer and celebrity, was born in Richmond, Virginia, and lived much of her life at Castle Hill, the Rives family estate in Albemarle County. She was the daughter of Sarah Catherine MacMurdo Rives and Alfred Landon Rives and was the granddaughter of William Cabell Rives, who had been minister to France twice and served in both houses of the United States Congress and in the Confederate House of Representatives. Precocious and doted on by her family, she was largely educated by tutors at home where, encouraged to follow the example of literary relatives, she began writing at an early age.
Rives's first published work, the romantic short story "A Brother to Dragons," complete with imaginative Elizabethan dialogue, appeared in The Atlantic Monthly in 1886 and received praise. Two years later she published The Quick or the Dead?, which became her best-known work. The novel was considered semierotic, daring, even immoral, and the controversy surrounding its publication led to it selling an impressive 300,000 copies. Some accounts of the public reaction to the novel include its being banned from libraries and condemned by religious leaders. Regardless, it launched the young writer into celebrity and literary notice.
This early success propelled Rives's writing career and she steadily produced dozens of poems, short stories, plays, novellas, and novels, ending with her last major work in 1930, the novel Firedamp. A play Rives had started writing in the 1920s, The Young Elizabeth, was produced in 1938, and Rives continued to write and publish poetry into the 1940s.
In keeping with the era's societal expectations of white women of her class, Rives consciously projected the image of a southern belle who dabbled in writing and was wholly surprised to find herself celebrated and successful, firmly asserting that her earliest work was accidentally discovered and submitted by a third party to a publisher. There is evidence, however, that Rives's contact with publishers was an intentional effort to gain notice as well as to earn money for the upkeep of Castle Hill. Rives had a desire to be considered an artist, possessed a strong work ethic, and was well aware of the economic implication of her efforts. Further, as her writing progressed, she became less tied to the image of southern ladylike reticence and wrote—and lived—more of a modern woman's life.
In her youth, Rives was a celebrated beauty. Along with her appearance, Rives became well known for her glamorous personal life as well as her writing. National newspapers of the day routinely covered her social engagements, including flattering details of her appearance and dress. Her international travel, her engagement to her first husband, her two marriages, her divorce, her health (both physical and mental), and her writing were extensively chronicled by gossip columnists of the time, making Rives a celebrity whose movements and activities generated front-page coverage.
Of avid interest to the public was her 14 June 1888 marriage to wealthy, prominent, and socially connected New Yorker, John Armstrong Chanler (known as Archie, he changed the spelling of his surname to Chaloner in 1908). His family had objected to the hasty marriage largely because of Rives's novel The Quick or the Dead? and assumed, with others, that the romantic and sexual context of the novel was overtly autobiographical and based on the Rives-Chanler courtship. By all accounts, the marriage was tumultuous, and the couple frequently quarreled and often traveled separately. Rives, who continued to publish under her maiden name, was sought after socially more than her wealthy husband, and the press often suggested that the disparity (as well as the relative immaturity of both parties) may have contributed to their marital difficulties. Reflecting also the tenor of the times regarding attitudes toward women, Rives was viewed as mercurial, moody, fragile, and emotional, and was criticized in print as unstable or histrionic. To compound this public assessment, it is possible that during this time of her life Rives's frequent headaches led to morphine addiction. Certainly her familiarity with the drug and others was on full display in her novel Shadows of Flames (1914), in which the innocent and unsuspecting Sophy discovers, hidden in her husband's cigarettes, the source of his persistent drug addiction.
When Rives and Chanler divorced under the lenient laws of South Dakota in 1895, it was front-page news in the New York Times. Chanler, an eccentric and fascinating character in his own right, was later declared insane by his family and committed to an asylum from which he escaped and subsequently fought in Virginia and New York courts to be declared competent. He provided generous alimony support to his former wife and actually continued to live on an estate close to hers in Albemarle County.
At Castle Hill, on 18 February 1896, Rives married Russian prince Pierre Troubetzkoy, often described as a charming, well-mannered gentleman and widely acknowledged as an accomplished portrait painter. They had met at a party in England where the famous writer Oscar Wilde introduced them. Rives subsequently used the title Princess Troubetzkoy and, inspired by her husband, strengthened her longstanding interest in drawing and painting. According to most accounts, the marriage was a happy one. She handily conquered the stigma of divorce and even gave prospective brides advice on how to avoid "disillusionment after marriage" in her 1916 essay entitled "Why I Believe in Trial Engagements," published in the Richmond Times-Dispatch. The Troubetzkoys had no children and were often separated as a result of the prince's artistic schedule, but they remained married until he died on 25 August 1936.
Literary tastes have changed markedly regarding the genre of romantic writing. Rives is seldom read in the twenty-first century, and her contributions to the southern literary movement of her time have been almost forgotten. Current literary criticism of her work is scant and she has only one full-length biography. Indeed, despite the remarkable sales of The Quick or the Dead? subsequent contemporary reviews of her work were occasionally scathing. On the other hand, Rives had loyal readers, and her fame as an author was extraordinary for her time. Parodies of her novels, newspaper anecdotes, and jokes about her appeared in the 1890s. During Rives's career, her writings were acknowledged, even if not always positively reviewed, by such respected magazines and newspapers such as Harper's, the New York Times, the Saturday Review, the Dial, The Nation, the Athenaeum, Cosmopolitan, Godey's Magazine, The Atlantic Monthly, and the Times Literary Supplement. Her contacts with acclaimed American and British authors such as Thomas Hardy, Henry James, H. L. Mencken, George Meredith, Mark Twain, and Oscar Wilde attest to her personal attraction and social standing as well as her literary skills and prowess. In particular, Wilde, James, and Meredith were very cordial to Rives and exchanged books and invitations with her. Rives had early contact and correspondence with the Virginia writer, her cousin Thomas Nelson Page, and she later became a friend and longtime correspondent of other Virginia literary luminaries, including her cousin James Branch Cabell and Ellen Glasgow.
Rives and Glasgow had much in common regarding their background and parentage, and they encountered each other socially. They corresponded regarding intellectual and literary interests, exchanged books and gifts, and Rives, the elder of the two, also often gave personal and even beauty advice to Glasgow. Although the frequency and tenor of the letters between them changed as Glasgow became more famous and Rives less so, they continued their association for forty years. Like Glasgow, Rives supported woman suffrage, was a member of the Equal Suffrage League of Virginia, and was among the distinguished contributors to a special suffrage supplement the league published in the Richmond News Leader in 1914. Her literary work is often characterized as feminist.
Rives's literary output was steady, and many of her novels ran to the hundreds of pages. Modern readers might not agree, but her writing was associated with the then-growing Realistic movement in America. Her work features numerous characters, complex plots, and elaborate descriptions of weather, landscapes, houses, clothes, and personal appearance. An illustrative passage comes from The Quick or the Dead? where Rives wrote, "The skirt of the sky was strewn from hem to hem with little, flittering, filmy clouds, through which a wet moon shone vaporous; the tulip-trees, nearly stripped of their golden, October leaves, thrust their empty seed-cups out and up, like so many elfin goblets, to be filled with weird mist-wine."
Her female characters suffer intensely; her males, objects of desire, are often wracked with strong emotion. The dramatic, overwrought dialogue fit contemporary literary standards and was an innovative effort to capture passion. Her settings, when southern, also spotlighted faithful African American retainers in supportive roles who often comforted the heroine, sometimes in heavily stylized dialect. Rives also used racial stereotypes and racist terms common to the times. She featured a few main characters from lower social classes (as in Virginia of Virginia, published in 1888), but most of her work concentrated on the socially elite and wealthy. Rives's facility with plot sharpened as she continued to write, and many of the works end happily. Critics praised other efforts, notably World's End (1913) and Shadows of Flame, for their characterization, vitality, and skill. In the 1910s and 1920s a number of her plays were produced on Broadway, and one, The Fear Market, became a silent film in 1920.
Rives was deeply affected by her husband's death in 1936, and her shaky finances deteriorated during the Great Depression and in the absence of financial support from her then-deceased first husband. She attempted to support Castle Hill through tours for interested tourists. Afflicted with heart disease and growing deaf, blind, and senile, Rives became concerned about her deteriorating beauty and was an invalid in later years. Amélie Louise Rives Chanler Troubetzkoy moved from Castle Hill to a nursing home in 1944 and died in Charlottesville, Virginia, on 15 June 1945. She was buried next to her second husband at Castle Hill.

Sources Consulted:
Biography in Welford Dunaway Taylor, Amélie Rives (Princess Troubetzkoy) (1973); Albemarle Co. Marriage Licenses, 1888, 1896; letters and other materials in multiple collections of Amélie Rives Papers and in Rives Family Papers, Albert and Shirley Small Special Collections Library, University of Virginia (UVA), Charlottesville; Amélie Rives Papers and John Armstrong Chaloner Papers, both David M. Rubenstein Rare Book and Manuscript Library, Duke University, Durham, N.C.; letters in numerous other collections, including Ellen Glasgow Papers and Thomas Nelson Page Papers, both UVA, in Thomas Bailey Aldrich Papers and Houghton Mifflin Company Correspondence and Records, both Houghton Library, Harvard University, Boston, Mass., and in Louise Chandler Moulton Papers, Library of Congress, Washington, D.C.; Donna M. Lucey, Archie and Amélie: Love and Madness in the Gilded Age (2006); George C. Longest, Three Virginia Writers: Mary Johnson, Thomas Nelson Page and Amélie Rives Troubetzkoy: A Reference Guide (1978); Wayne Mixon, "New Woman, Old Family: Passion, Gender, and Place in the Virginia Fiction of Amélie Rives," in The Adaptable South, Essays in Honor of George Brown Tindall, ed. Elizabeth Jacoway et al. (1991), 124–147; Jane Turner Censer, "The Gift of Friendship: Ellen Glasgow and Amélie Rives, Virginia Writers," Virginia Magazine of History and Biography 124 (2016): 99–133; Censer, "The Southern Lady and the Northern Publisher: A Tumultuous Relationship," Journal of Southern History 85 (2019): 7–32; Amélie Rives Troubetzkoy, "Why I Believe in Trial Engagements," Richmond Times-Dispatch, 21 May 1916, first quotation; Amélie Rives, The Quick or the Dead? A Study (1888), 435 (second quotation); birth and death dates in death certificate, Charlottesville, Bureau of Vital Statistics, Commonwealth of Virginia Department of Health, Record Group 36, Library of Virginia; obituaries in Charlottesville Daily Progress, 16 June 1945, and New York Times, Richmond Times-Dispatch, Washington Post, all 17 June 1945.
The Quick or the Dead? frontispiece image courtesy of the Library of Virginia.
Written for the Dictionary of Virginia Biography by Leila Christenbury.
How to cite this page:
>Leila Christenbury, "Amélie Louise Rives Chanler Troubetzkoy 1863–1945," Dictionary of Virginia Biography, Library of Virginia (1998– ), published 2021 (https://www.lva.virginia.gov/public/dvb/bio.php?b=Troubetzkoy_Amelie_Rives, accessed [today's date]).

Return to the Dictionary of Virginia Biography Search page.