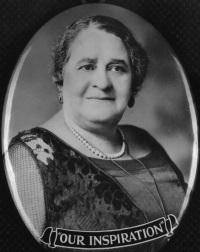 Maggie Lena Draper Mitchell Walker (15 July 1864–15 December 1934), Right Worthy Grand Secretary-Treasurer of the Independent Order of Saint Luke, president of Saint Luke Penny Savings Bank, social reformer, and civil rights advocate, was born in Richmond. She was the daughter of Elizabeth Draper, an enslaved woman who might have been freed before or during the Civil War, and she was fathered by Eccles Cuthbert, a native of Ireland, Confederate soldier, and newspaper correspondent, who was not involved in her upbringing prior to his death in 1902. On 27 May 1868, her mother married William H. Mitchell, with whom she had worked in the household of Richmond Unionist Elizabeth Van Lew. After her stepfather's untimely death early in 1876, her mother raised her and her younger brother alone and took in laundry to sustain her family. Maggie Mitchell began helping her mother at a young age delivering and picking up laundry. She later described herself as having been born "with a laundry basket practically on my head."
From a very young age, she attended First African Baptist Church, which had a congregation of more than 3,000 on the eve of the Civil War, and was baptized during an 1878 religious revival. She attended the city's segregated public schools and in 1883 graduated from Richmond Colored Normal School. She taught for three years at the Valley School, where she had been a student, and enrolled in business courses. As a teenager she joined the Independent Order of the Sons and Daughters of Saint Luke (later the Independent Order of Saint Luke), an African American benevolent organization founded in Baltimore in 1867 to help the sick, poor, and elderly and which provided death benefits to members. She steadily moved up, taking on higher ranking positions with more responsibility, and in 1890 presided over the order's annual convention as Right Worthy Grand Chief. She spent much of the decade organizing local councils around the state. In 1895 she successfully introduced a plan for a new Juvenile Department to attract younger members to the order. She chaired the committee that created its regulations and rituals and became Grand Matron of the department in 1896. Within twenty years the department had established 281 circles with more than 10,000 members in thirteen states and the District of Columbia.
On 14 September 1886 she married Armstead Walker Jr., who had graduated from Richmond Colored Normal School and worked as a brick mason, the trade of his father. They had three sons, one of whom died in infancy, and raised a daughter they adopted into the household. Walker's work with the Independent Order of Saint Luke and her husband's occupation enabled them to become members of a growing African American middle class in Richmond. They purchased their own home in Richmond's Navy Hill neighborhood, where they lived until 1905, when they moved into the home they had purchased the previous year on East Leigh Street, known as Quality Row in the city's Jackson Ward. They eventually expanded the Victorian Gothic house, built in 1883, to twenty-eight rooms to accommodate their extended family.
In August 1899 Maggie L. Walker became Right Worthy Grand Secretary of the Independent Order of Saint Luke (secretary-treasurer after 1911), which then had fifty-seven councils and 1,080 members, $31.61 in the treasury, and outstanding bills amounting to $400. She moved quickly to improve the order's finances and began publishing a weekly newspaper, the St. Luke Herald, in March 1902. "What we need," she explained, "is an organ, a newspaper to herald and proclaim the work of our Order. No business, no enterprise, which has to deal with the public, can be pushed successfully without a newspaper, a trumpet to sound the orders." The newspaper provided regular updates of the order's business reports, news about members of the organization, and advice regarding prudent personal finance practices. The newspaper advocated women's right to vote, and Walker, as managing editor, kept this important issue before her reading public. Her use of the St. Luke Herald to educate was especially timely as white women's organizations such as the Equal Suffrage League of Virginia and the Virginia Association Opposed to Woman Suffrage denied African American women participation in their organizations.
Walker especially wanted to establish a bank to provide financial services for members and the larger African American community. The Saint Luke Penny Savings Bank of Richmond, Virginia, opened on Monday, 2 November 1903, with Walker as president. She was the first African American woman in the country to be president of a bank and one of the first women of any race. At a time when few women had bank accounts or were employed by banks, she learned the business by studying the daily operations at one of the white banks in Richmond. Walker was often the only women present at meetings of business and banking organizations. She instituted strong accounting practices and the bank passed audits by state regulators that led to the closures of other African American banks and also survived the national waves of bank failures that began in 1929. That year, Saint Luke merged with Second Street Savings Bank to become the Consolidated Bank and Trust Company, which was joined by a third bank, Commercial Bank and Trust Company, in 1930.
The order opened the Saint Luke Emporium, a department store, on 10 April 1905. It remained in business through 1911. The strategically placed building belonged to John Mitchell Jr., editor and publisher of the Richmond Planet. In the display windows, mannequins had skin tones that resembled the establishment's customers, and enticing electric signs enabled passersby to see the store and its windows from a distance. After seven months, the business moved to a building on East Broad Street that it shared with the Saint Luke Penny Savings Bank. The store employed about a dozen women and seven men, and in its first year had sales totaling $32,951.89. At a time when most black women were employed as laundresses, tobacco factory workers, or servants, the Emporium served as a beacon of light for the salesclerks and a paradise for eager shoppers. The retail establishment operated six years; its demise was caused in part by unrelenting obstacles from the white business owners and the limited discretionary income of its customer base. During its existence, however, it sought to contribute to the order's goal to "lift the Negro in every walk of life."
Improving the living and working conditions of African American women was a driving force in Walker's life. She belonged to the Virginia State Federation of Colored Women's Clubs from its founding in 1907 until her death. The federation supported the work of uplift organizations and focused particularly on raising money for the Virginia Industrial School for Colored Girls that federation president Janie Porter Barrett directed in Hanover County as an alternative facility for girls who might otherwise be sent to prison. Walker served on the school's board of trustees and on its board of managers. Through the Richmond Council of Colored Woman, of which Walker was the founding president in 1912, she provided the school's Christmas dinner each year. With more than 1,100 members when it was established, the council intended to take on such "benevolent and charitable activities … as the directors may feel called upon to engage in for the moral, social and economic uplift of its members and of the community." The Council of Colored Women raised money to purchase the property for the school and to support its operations. It also paid for a part-time public health nurse in Richmond and assisted in fundraising for Piedmont Sanitarium, near Burkeville, which opened in 1918 as the first state facility to treat African American patients suffering from tuberculosis. As part of its efforts to help other organizations fulfill their respective missions, in 1922 the council bought its own headquarters building, which later became the location of the city's public library branch for African Americans and afterwards housed the Black History Museum and Cultural Center of Virginia.
Walker belonged to numerous state, local, and national organizations that worked to improve the quality of life for African Americans. She participated in meetings of the Hampton Negro Conference and helped establish its successor, the Negro Organization Society of Virginia, an umbrella group to aid the efforts of educators, churches, and benevolent societies. In 1917 she cofounded the Richmond chapter of the National Association for the Advancement of Colored People, which was not particularly active during its early years, but she served on the board of directors of the national NAACP for more than a decade beginning in 1923. Walker was involved with a variety of interracial efforts to improve conditions in African American communities, and was a member of the Virginia Commission on Interracial Cooperation during a time when social unrest and violence against African Americans was rampant. She led fundraising drives for the Community House for Colored People, which provided public health services in Jackson Ward early in the 1920s and afterwards became the headquarters of the Richmond Urban League, of which Walker was elected a vice president when it was founded in 1923. After joining the National Association of Colored Women in 1912, she was named chair of the business department and later of the finance department and also sat on the auditing committee. In 1920 the association elected Walker a trustee of the Frederick Douglass Memorial and Historical Association, which raised money to restore and open his home in Washington, D.C. Walker also belonged to the International Council of Women of the Darker Races that she and other members of the National Association of Colored Women organized early in the 1920s to reach out to women of color in other countries and work on behalf of each other.
Just as white women in Virginia gathered their women about them, Walker also gathered her women about her in September 1920 after ratification of the Nineteenth Amendment guaranteed women's right to vote. She led voter registration campaigns and education sessions. She and several prominent black women, all affiliated with the various organizations Walker belonged to or led, also held mass meetings to prepare women for the challenge. When the time came to register in Richmond, city hall officials were overwhelmed with the presence of black women who, though hard pressed, were determined to pay the required poll tax of $1.50. Long lines meant that African American women, many of whom had jobs, had to wait for hours and Walker demanded that the registrar employ African American deputies to speed the process, but he refused. Walker paid her poll tax on 11 September, registered to vote three days later, and cast her first vote along with thousands of other Richmond and American women, both white and black, on 2 November.
In 1921 after the state Republican Party convention excluded most of the African American delegates elected to it and nominated an all-white ticket—called at the time "Lily White"—for statewide office, Walker joined John Mitchell Jr. and other African American leaders on what was called a "Lily Black" Republican Ticket. Walker ran for the statewide office of superintendent of public instruction and received 6,991 votes out of 208,576 cast in the state; Richmonders cast 1,635 of those votes, and most of the other votes Walker received were also in areas with large African American populations.
Walker stressed the importance of education and in addition to her service as a trustee of Nannie Helen Burroughs's National Training School for Women and Girls in Washington, D.C., she was also a trustee of Hartshorn Memorial College, a Richmond school for African American women that later became part of Virginia Union University. In 1926 Walker created the Educational Loan Fund, an endowment to provide financial aid to African American students at 6 percent interest. To help build the $10,000 fund, the Independent Order of Saint Luke distributed more than 2,000 customized dime banks to its local councils in 1927, but it took a decade to raise enough money during the Great Depression before the Fund began lending.
Throughout her life, Walker devoted her energies to changing and improving working conditions for women and girls in domestic service, increasing home ownership and employment opportunities, supporting a safe haven with instruction for at-risk young women, and creating opportunities for upward mobility for women in professional careers. She led by example and became the best-known African American woman in Virginia and was nationally recognized as an advocate for women, children, and education, as well as a successful business executive. In 1925 Virginia Union University recognized her accomplishments by conferring on her a Master of Science degree. In 1934 numerous African American organizations designated October as Maggie L. Walker Month.
On 20 June 1915 a tragic accident occurred when Walker's eldest son mistakenly killed his father thinking he was an intruder. Her son was tried and acquitted but thereafter battled depression and alcoholism until his death on 23 November 1923. Even as Walker's own health declined, she continued to lead the bank and the Independent Order of Saint Luke, which at the end of the 1920s had more than 40,000 adult members and almost 1,100 councils. She also continued to contribute her time, talent, and financial resources to various civic organizations. In 1908 Walker fell and broke her kneecap, an accident from which she never fully recovered. Eventually she needed leg braces, but walking became more difficult by 1927 when she began to have complications from diabetes and eventually became paralyzed. Confined to a wheelchair, she rose above any perceived limitations and adapted her home in order to maintain her mobility. Walker employed Charles Thaddeus Russell, one of the earliest licensed black architects in Virginia, to expand her home in 1922 with a second-floor porch and additional bedrooms. In 1928 she had an elevator installed and also purchased a new automobile and had the back seat reconfigured to accommodate her wheelchair, and hired a driver to facilitate her travels across the country.
Maggie Lena Draper Mitchell Walker died at her Richmond home on 15 December 1934. She was buried in the city's Evergreen Cemetery following a funeral attended by hundreds of people, including the mayor, on a rainy day when the African American schools in Richmond closed early and the flags at white and black businesses flew at half-mast. The "Lame Lioness," as she was called late in her life, left a lasting legacy. The city constructed Maggie L. Walker High School on the former site of Hartshorn Memorial College that she had supported. Her home at 110½ Leigh Street is stewarded by the National Park Service and is a National Historic Landmark. In 2017 the city erected a statue of Walker on East Broad Street near where she lived, worked, and served the community. A statue of her will also be one of twelve Virginia women honored on Capitol Square in the Voices from the Garden monument.

Sources Consulted:
Biographies in A. B. Caldwell, ed., History of the American Negro, vol. 5: Virginia Edition (1921), 9–11, Sadie Iola Daniel, Women Builders (1931), 28–52, Lauranett Lee, "More Than an Image: Black Women Reformers in Richmond, Virginia: 1910–1928" (M.A. thesis, Virginia State University, 1993), and Gertrude Woodruff Marlowe, A Right Worthy Grand Mission: Maggie Lena Walker and the Quest for Black Economic Empowerment (2003), with portraits and first quotation on 5; 1864 year of birth derived from U.S. Census Records, Richmond City, 1870 (age six), Records of the Bureau of the Census, Record Group 29, and in Registers of Signatures of Depositors (age eight on 10 Aug. 1872), Freedman's Savings and Trust Company, 1865–1874, Records of the Office of the Comptroller of the Currency, Record Group 101, both in National Archives and Records Administration, Washington, D.C.; birth year of 1867 on gravestone; birth year question outlined in Richmond Times-Dispatch, 5 July 2009; Maggie Lena Walker Papers and Right Worthy Grand Council Independent Order of Saint Luke Records, both Maggie L. Walker National Historic Site, Richmond, Va.; Marriage Register, Richmond City, Bureau of Vital Statistics (BVS), Commonwealth of Virginia Department of Health, Record Group 36, Library of Virginia (LVA); Fiftieth Anniversary—Golden Jubilee: Historical Report of the R. W. G. Council, I. O. Saint Luke, 1867–1917 (1917), second quotation on 23, third quotation on 77; 1921 election return in Annual Report of the Secretary of the Commonwealth … for the Year Ending September 30, 1921 (1922), 423–424; fourth quotation in State Corporation Commission Charter Book 115:108–109, Record Group 112, LVA; career documented in Richmond Planet, St. Luke Herald, and other African American newspapers; Richmond Free Press, 20–22 July 2017; Clayton McClure Brooks, The Uplift Generation: Cooperation across the Color Line in Early Twentieth-Century Virginia (2017); Shennette Garrett-Scott, Banking on Freedom: Black Women in U.S. Finance Before the New Deal (2019); BVS Death Certificate, Richmond City; obituaries, editorial tributes, and accounts of funeral in Richmond Times-Dispatch, 16, 18 Dec. 1934, Richmond News Leader, 20 Dec. 1934, Norfolk Journal and Guide, 22 Dec. 1934, and Richmond Planet, 22 (fifth quotation), 29 Dec. 1934.
Image courtesy of the Library of Virginia.
Written for the Dictionary of Virginia Biography by Lauranett L. Lee.
How to cite this page:
>Lauranett L. Lee, "Maggie Lena Draper Mitchell Walker (1864–1934)," Dictionary of Virginia Biography, Library of Virginia (1998– ), published 2020 (http://www.lva.virginia.gov/public/dvb/bio.asp?b=Walker_Maggie_Lena, accessed [today's date]).

Return to the Dictionary of Virginia Biography Search page.