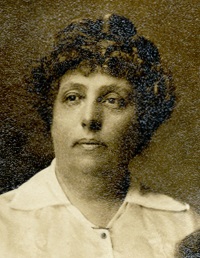 Eugénie Macon Yancey (5 March 1866–25 January 1947), woman suffrage activist, was born in New Orleans, Louisiana, and was the daughter of a Virginia native and Confederate veteran, Thomas Littleton Macon, and his second wife, Mary Rogers Dougherty Macon. Her mother died when she eight years old. She was educated in private schools in New Orleans and graduated from Patapsco Female Institute in Ellicott City, Maryland, in June 1881. Her prosperous father enabled her to travel in Europe afterward. In Lynchburg, Virginia, on 28 March 1889 she married a widower (and probably distant cousin) William Tudor Yancey, who owned a farm in Montgomery County, but they soon moved to Bedford, Virginia, where he worked as a sales representative for a national company. They had one son.
Yancey took an active role in Bedford community affairs. She was secretary of the local William R. Terry Chapter of the United Daughters of the Confederacy from its founding in 1902 until 1910, when she was elected second vice president. With the Civic Improvement League, she spearheaded the effort to establish a municipal park with a drinking fountain in 1909. In the autumn of 1913 she was elected president of the local chapter of the public school league, one of several statewide organizations formed to improve the quality of public education in the state.
In March 1913 Yancey marched in the national woman suffrage parade in Washington, D.C. Two months later Lila Hardaway Meade Valentine, president of the Equal Suffrage League of Virginia, spoke in Bedford on 18 May at the founding meeting of the local chapter, the Bedford Equal Suffrage League. The forty-three founders elected Yancey president, in which office she served until women won the vote in 1920. A brief, undated biographical note preserved in the papers of the Equal Suffrage League of Virginia described Yancey as then "the most important woman in her town, socially and civically. She is a leader in all social functions and it is said that any thing meant for civic improvement is sure of success if it meets with her approval." Yancey regularly attended state conventions of the Equal Suffrage League. The convention named her an alternate to the annual convention of the National American Woman Suffrage Association in 1913 and 1914, and she represented Virginia as a delegate in 1915. Like other suffrage advocates Yancey took part in attempts to persuade her representatives in the General Assembly to submit a suffrage amendment to the state constitution, and she also urged state officials to support a plan for compulsory attendance of all school-age children in public schools. She was elected a vice president of the state league in 1915 and served until 1920.
During World War I, Yancey chaired the women's committee of the United War Work Campaign in Bedford County and was acting secretary and sometime chair of the conservation committee of the county's Federation of Women's Clubs. She was chair of the local Young Women's Christian Association and after the war she served on the women's auxiliary of the local American Legion. In November 1921 Yancey became a member of the women's committee of the Virginia Commission on Interracial Cooperation and served for several years. The organization did not encourage integration; instead it strove to improve education and health care for African Americans and advocated other measures that could reduce the inequalities between the races within a racially segregated society. It condemned mob violence but not lynching by name. Yancey's husband died of cancer on 26 December 1923.
Yancey twice ran for the Democratic Party's nomination for the House of Delegates from Bedford County. In 1921, the first year women were able to run for office, she was one of four candidates for the two seats that Bedford had at the time. She received the fewest votes and after the election acknowledged that many Virginians might not be ready for women to hold office. On 16 June 1927, Yancey announced her candidacy again. Her campaign statements indicate that in general she supported the business-oriented policies of then-Governor Harry Flood Byrd (1887–1966). A few days before the election Yancey issued "a word of apology to the mosquitoes for comparing my spineless opponents to them when they refused to meet me in debate. A few more days they will buzz; it is then up to you," she concluded, addressing the voters, "to swat them at the polls." Yancey came in third in a field of four candidates and received 478 out of 2,844 votes, about 17 percent.
Yancey remained active in local Democratic Party politics for several years. In the mid-1930s, she moved to the city of Roanoke to take a job in the veterans' hospital there. Eugénie Macon Yancey died of a heart attack at her Roanoke home on 25 January 1947 and was buried near her husband and son in Riverview Cemetery, in Charlottesville.

Sources Consulted:
Gertrude Blair, "Historical Sketch of Eugenia Macon Yancey of Lynchburg, Virginia," Biographical Files, Virginia Writers' Project, Work Projects Administration of Virginia Papers, Accession 30432, Library of Virginia (LVA); birth date on gravestone, Riverview Cemetery, Charlottesville; variant 1864 birth year in Census, Bedford, 1900; Marriage Register, Lynchburg, Bureau of Vital Statistics, Commonwealth of Virginia Department of Health, Record Group 36, LVA (BVS); Equal Suffrage League of Virginia Records, Accession 22002, LVA, including undated biographical note (first quotation); correspondence in Adèle Goodman Clark Papers, Cabell Library, Virginia Commonwealth University, Richmond; Roanoke Evening News, 3 May 1909; campaigns documented in Bedford Bulletin, 28 July, 4, 11 Aug. 1921, 16 June, 23 July (second quotation, portrait), 4 Aug. 1927, and in Richmond Times-Dispatch, 6 July 1927; BVS Death Certificate, Roanoke City; death notices in Roanoke World News, 25 Jan. 1947, and Roanoke Times, 26 Jan. 1947; obituary in Bedford Bulletin, 30 Jan. 1947.
Image courtesy of Special Collections and Archives, James Branch Cabell Library, Virginia Commonwealth University Libraries.
Written for the Dictionary of Virginia Biography by Kathryn Gehred.
How to cite this page:
>Kathryn Gehred, "Eugenie Macon Yancey (1866–1947)," Dictionary of Virginia Biography, Library of Virginia (1998– ), published 2018, rev. 2019 (http://www.lva.virginia.gov/public/dvb/bio.asp?b=Yancey_Eugenie_Macon, accessed [today's date]).

Return to the Dictionary of Virginia Biography Search page.