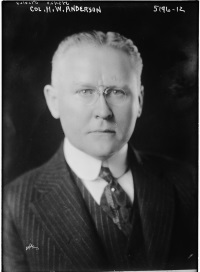 Henry Watkins Anderson (20 December 1870–7 January 1954), attorney and Republican Party leader, was born at Hampstead, the Dinwiddie County estate of his father, William Watkins Anderson, a doctor and farmer, and Laura Elizabeth Marks Anderson. He was the younger of two sons, and he and his twin sister were the third and fourth of five children. Although once prosperous, the Anderson family had lost much of its property and standing as a result of the Civil War. Anderson attended public schools in Dinwiddie County and had a succession of private tutors. After a brief stint at a business college, he worked for four years as a stenographer with the Richmond and Danville Railroad, then moved to Roanoke to take a similar position with the Norfolk and Western Railway.
In the summer of 1897 Anderson began to study law and work as a clerk for the law firm of Staples and Munford in Richmond. Later that year he became the secretary of William L. Wilson, president of Washington and Lee University, a position that enabled him to attend law school. He received an LL.B. in 1898 and returned to Richmond. He was admitted to the bar and on 1 October 1899 formed a partnership with his former employer, Beverley Bland Munford. Two years later Anderson persuaded Munford, Edmund Randolph Williams, and Eppa Hunton to form a new firm, which evolved into Hunton Williams, one of the largest and most prestigious law firms in the South.
Anderson soon demonstrated that he was a brilliant corporate lawyer. After a lengthy litigation he reorganized several Richmond companies and helped put together the Virginia Railway and Power Company. He served as vice president and general counsel of the company from 1909 to 1916, and he was also the general counsel of the International and Great Northern Railway from 1912 to 1914.
In 1916 Anderson met and fell in love with the novelist Ellen Glasgow. The two brilliant eccentrics, who did not easily fit into Richmond society, began to write a political novel together, for which Anderson supplied copies of his speeches. As a result, the character David Blackburn in Glasgow's The Builders (1919) strongly resembles Anderson. When World War I broke out Anderson immediately lent his talents to the Virginia war relief effort. His attempt to enlist in the army once the United States entered the conflict was rebuffed because of age. When offered the opportunity to command the 150-person American Red Cross Commission to Romania, with the rank of lieutenant colonel, Anderson jumped at the chance. On the eve of his departure, on 19 July 1917, he and Glasgow became secretly engaged.
Anderson remained at his post in Romania until March 1918, when Romania's surrender to Germany forced the Red Cross mission to flee the country. He led a dramatic escape by train across Russia, risking falling into the hands of the equally unfriendly Bolsheviks and Mensheviks. He returned to Richmond but after the Armistice went back to Europe as Red Cross commissioner for the entire Balkans. His untiring efforts to secure and distribute twelve thousand tons of food and medical supplies during the next six months earned him the gratitude of the Balkan States and an unprecedented series of medals: the War Cross (Czechoslovakia); the War Medal (France); Commander of the Royal Order of the Saviour (Greece); the War Medal (Italy); Commander of the Order of Prince Danilo I (Montenegro); Grand Officer of the Star of Romania and Commander of the Order of the Crown and the Order of Regina Maria, First and Second Classes (Romania); Commander of the Order of Saint Anne, with swords (Russia); and Grand Cross of Grand Commander, Order of Saint Sava, First and Second Classes, and the Serbian Red Cross (Serbia).
While in the Balkans Anderson became infatuated with Queen Marie of Romania. Her feelings for him are more difficult to gauge, but she certainly viewed him as a sympathetic confidant and as one in a string of knights errant she attracted. As early as 1918 she and Anderson began a daily exchange of letters and presents similar to that Anderson had undertaken with Glasgow. The rumors surrounding the relationship between Anderson and the queen and his blatant exploitation of their friendship caused his engagement with Glasgow to disintegrate. Glasgow was eventually reconciled to Anderson and remained close to him until her death in 1945, but she obtained some measure of revenge by grafting recognizable details of his life onto her weak-willed and faithless heroes in various novels, particularly Barren Ground (1925), Vein of Iron (1935), and—probably the most hurtful—The Romantic Comedians (1926). Another Richmond writer, Emily Clark, included a caricature of Anderson as John Sylvester in her Stuffed Peacocks (1927).
On his return from Europe, Anderson found himself in great demand politically. Although he came from a staunchly Democratic family, during the presidential campaign of 1896 he had served as secretary of the Virginia Sound Money Convention and vehemently opposed the election of William Jennings Bryan. By 1908 Anderson considered himself a Taft Democrat and not long thereafter moved from a vague association to formal identification with the Republican Party. In 1920 he received the unanimous endorsement of the state Republican convention for the vice presidency and at the national convention placed fourth in the initial balloting, but Calvin Coolidge received the nomination. Anderson was chairman of the Republican state convention in 1921 and was nominated for governor of Virginia. He ran on a platform advocating abolition of the poll tax, improvement of highways, reform of the educational system, and greater fiscal responsibility on the part of state government. Underlying all his proposed reforms was an insistence on the necessity of dismantling the state Democratic Party machine and making the South into a competitive two-party region. After Anderson remarked that the Republican Party in Virginia should be a party of white men, African American Republicans bolted the party and nominated their own slate, headed by John Mitchell Jr. In the November general election, Anderson won only about 35 percent of the vote and lost to E. Lee Trinkle. Anderson failed to carry his home district, and even his mother and brother refused to vote for him.
Four years later the Virginia Republican Party chose Anderson to run for governor against Harry Flood Byrd (1887–1966), but he declined the nomination. Anderson was mentioned for the vice presidency in 1928 and again in 1931. Presidents Warren G. Harding and Herbert Hoover considered nominating him to the United States Supreme Court in 1924 and 1931 respectively, but on both occasions opposition from Virginia Republican leader Campbell Bascom Slemp and a lack of support from Virginia's Democratic senators led to early abandonment of the idea.
In the strictest sense, Anderson's political career was a series of near-misses and might-have-beens. His lack of broad-based support in his own state and his inability to deliver votes made him seem politically ineffective. In another sense, however, Anderson's political career was influential. The Byrd organization implemented many of his suggestions for fiscal responsibility, governmental reorganization, road improvement, and educational reform once the perceived challenge from the Republican Party had been put down.
Anderson served with distinction in a number of appointive national offices. Coolidge chose him in 1924 as the agent to settle the Mexican claims resulting from retaliatory raids against Pancho Villa in 1916. For two years Anderson shuttled between Richmond, Washington, and Mexico City before withdrawing on 30 June 1926, ostensibly to resume private practice but actually because of dissatisfaction with the way the claims were being decided. In May 1929 Hoover appointed him to the National Commission on Law Observance and Enforcement, under the chairmanship of George W. Wickersham. Anderson headed the subcommittee on the causes of crime, but his most lasting contribution to the commission was his minority report, written after a research trip to Sweden at his own expense, urging the repeal of Prohibition and recommending the establishment of a system of liquor sales under government licensing similar to the Alcoholic Beverage Control Board that Virginia adopted in 1933.
Throughout two decades of political ambitions, appointments, and disappointments, Anderson continued to practice law with lucrative success. The Great Depression provided an unprecedented opportunity for his creative administrative and organizational strengths. He was a pioneer in corporate reorganization, especially for railroads and transportation companies. He became counsel for the Seaboard Air Line Railway, the Saint Louis–San Francisco Railway, the Denver and Rio Grande Western, and the Baltimore and Ohio. Anderson took a major part in developing what became Chapter XV of the 1939 Bankruptcy Act.
Anderson was unquestionably a brilliant, widely read, and attractive person, and he was a compelling orator. He was also one of the most flamboyant and controversial personalities in Richmond society, and his extravagant lifestyle provided grist for Richmond gossipmongers for half a century. He had always been active in support of the artistic and literary life of Richmond, and in the twilight of his career he found an outlet for his interest in the visual and decorative arts by serving as one of the original trustees of the Virginia Museum of Fine Arts in 1934 and as its president from 1947 until his death.
Anderson was stricken with colon cancer late in the 1940s, and he was eventually confined to bed. Henry Watkins Anderson died at his home on 7 January 1954 and was buried in Hollywood Cemetery. His estate, valued at nearly $1,000,000, was divided among his twin sister, eight nieces and nephews, and one grandniece.

Sources Consulted:
National Cyclopædia of American Biography (1891–1984), 44:10–11; Sara B. Bearss, "Queen Marie of Rumania and Colonel Henry Anderson of Virginia," Virginia Country 10 (Apr. 1987): 20–28 (portrait); Henry Watkins Anderson Papers, Virginia Historical Society, Richmond; Ellen Glasgow Papers, 1880–1963, Albert and Shirley Smalls Special Collections Library, University of Virginia, Charlottesville; Thomas B. Gay, The Hunton Williams Firm and Its Predecessors, 1877–1954 (1971), 36–46; Anne Hobson Freeman, The Style of a Law Firm: Eight Gentlemen from Virginia (1989), 76–103; Ray O. Hummel Jr. and Katherine M. Smith, Portraits and Statuary of Virginians Owned by The Virginia State Library, The Medical College of Virginia, The Virginia Museum of Fine Arts, and Other State Agencies: An Illustrated Catalog (1977), 3 (portrait); Virginius Cornick Hall Jr., Portraits in the Collection of the Virginia Historical Society: A Catalogue (1981), 14; obituaries in Richmond News Leader, 7, 8 Jan. 1954, New York Times, 8 Jan. 1954, and Richmond Times-Dispatch, 8, 9 Jan. 1954; memorial in Virginia State Bar Association Proceedings (1954): 115–117.
Image courtesy of Library of Congress, Prints and Photographs Division, Bain News Service photograph Collection.
Written for the Dictionary of Virginia Biography by Sara B. Bearss.
How to cite this page:
>Sara B. Bearss, "Henry Watkins Anderson (1870–1954)," Dictionary of Virginia Biography, Library of Virginia (1998– ), published 1998, rev. 2021 (http://www.lva.virginia.gov/public/dvb/bio.asp?b=Anderson_Henry_Watkins, accessed [today's date]).

Return to the Dictionary of Virginia Biography Search page.