Library of Virginia Literary Awards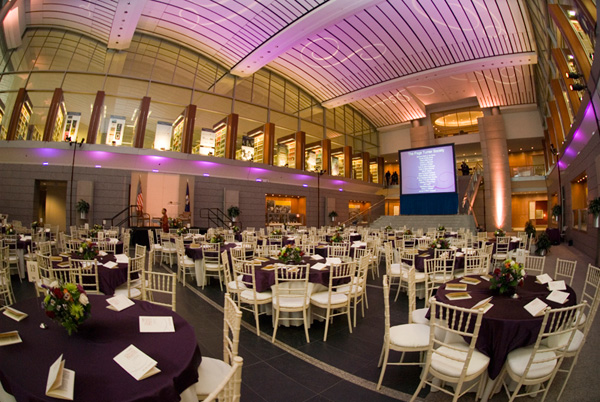 In 1997, the Library of Virginia established its annual Literary Awards program to honor Virginia writers and celebrate their contributions to the literary landscape of our state and nation. Given to Virginia authors in the categories of fiction and poetry—and to nonfiction authors for works about a Virginia subject as well—the awards are presented at an annual gala celebration that has become the Library's signature event and an eagerly anticipated cultural tradition in Richmond. While the main award recipients are selected by independent panels of judges, the Library also invites book lovers and readers to vote for their favorite works for the People's Choice Awards for Fiction and Nonfiction. In the past, the Library has also bestowed a Literary Lifetime Achievement Award to recognize the enduring influence of an outstanding Virginia writer, with past winners including Earl Hamner, Lee Smith, Jan Karon, Tom Robbins, Charles Wright, Barbara Kingsolver, Rita Dove, John Grisham, Tom Wolfe, and David Baldacci.
The Library also partners each year with the Virginia Museum of Fine Arts to present the Art in Literature: The Mary Lynn Kotz Award for an outstanding literary work with art or works of art as its primary subject. The judges selected Continuum: Native North American Art at the Nelson-Atkins Museum of Art by Gaylord Torrence as the 2021 recipient. Learn more here.
Nomination submission forms for the 2022 Art in Literature: Mary Lynn Kotz Award (books published in 2021) are now being accepted and can be found here; nominations will be accepted through March 15, 2022.
Nominations for the 2022 Literary Awards are now closed. A list of the nominated books for this year's awards can be found here. Fiction, Nonfiction, and Poetry finalists will be announced in July.
We are now accepting nomination submissions for the 2023 Literary Awards (books published in 2022). Guidelines for nominations can be found here and may be submitted by completing the online form or may also be printed and mailed to: Library of Virginia, Attn: Office of the Librarian of Virginia, 800 East Broad Street, Richmond, VA 23219.
The 25th Annual Library of Virginia Awards Celebration will be celebrated on Saturday, October 15, 2022.