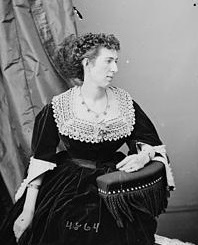 Maria Isabella "Belle" Boyd (9 May 1844–11 June 1900), Confederate spy, was born in Martinsburg, the daughter of Benjamin Reed Boyd and Mary Rebecca Glenn Boyd. Her father owned and operated a store. Both of her parents were from prosperous and socially prominent Virginia families, and the Boyds possessed several slaves. Belle Boyd developed a reputation early for energy and assertiveness. At age twelve she entered Mount Washington Female College near Baltimore, where she pursued an academic curriculum that placed special emphasis on languages and literature. Following her education Boyd spent the winter of 1860–1861 as a Washington debutante in a season that was, she later reported, "pre-eminently brilliant" despite, or perhaps because of, the atmosphere of intense political crisis in the capital. She undoubtedly met some of the most eminent political and military figures of the day, acquaintanceships that she later turned to her advantage.
Confederate Spy
After Virginia seceded and Boyd's father joined the Confederate army, she returned to Martinsburg and witnessed its occupation by the United States Army early in July 1861. She was active in the Confederate cause from the outset and soon volunteered to nurse sick and wounded Southern soldiers. On 4 July 1861 Union soldiers confronted Boyd and her mother after being told that the younger woman had decorated her room with rebel flags. When the men moved to raise a Union banner over the house, Boyd's mother objected. One of the soldiers responded with a curse, and Belle Boyd drew a hidden pistol and wounded him mortally. An investigation exonerated her, but the incident seems to have emboldened her to work systematically against the Union. Northern soldiers soon intercepted a message containing information about troop positions that she had obtained conversing with soldiers sent to monitor her movements. Boyd was excused with a severe reprimand, but her parents removed her to the care of an aunt and uncle in Front Royal.
While continuing her nursing efforts, Boyd remained eager to undertake further intelligence work. In October 1861 she became a courier for Confederate generals Thomas J. "Stonewall" Jackson and Pierre G. T. Beauregard, often transmitting to them information from their subordinate, Colonel Turner Ashby. After 23 March 1862 Northern officials detained Boyd for a week, but she was freed in time to make what she regarded as her most significant contribution to the Southern cause. After the Union army took Front Royal in May 1862, she was in excellent position to gain significant information from the occupying troops. Boyd subsequently recalled spying on a gathering of Northern officers through a hole in a closet floor and then riding fifteen miles by night to report her findings to Ashby. Later in the same month she urged Jackson's advancing troops to hurry their attack on Front Royal so as to seize the town before Union forces destroyed its supply depots and transportation lines. By then Boyd was becoming a celebrity, and newspapers both North and South described the young woman waving her sunbonnet to cheer on Confederate troops amid a hail of bullets.
Union officials had learned to regret their earlier leniency, and when opportunity presented itself late in July 1862 they seized Boyd and sent her to the Old Capitol Prison in Washington. She was treated well during a month of incarceration and evidently enthralled the superintendent, who, believing that she was engaged to be married, was said later to have sent her a wedding trousseau across the Confederate lines. Released in a prisoner exchange late in August, Boyd was sent to Richmond. By then a thoroughly public figure, she enjoyed fame and admiration during travel throughout the South in the autumn and winter of 1862–1863. Jackson reportedly affirmed her status by appointing her an honorary aide-de-camp with the rank of captain.
Banishment
When Boyd returned home to Martinsburg late in the summer of 1863, the town had become part of the state of West Virginia, and she was again arrested. This time her imprisonment in Washington lasted longer, but in December 1863 she was banished to the South. Boyd left for England carrying Confederate dispatches in May 1864, but her ship was stopped on the 10th of that month. Once again she captivated her captors, escaped punishment, and made her way first to Canada and then to England, where on 25 August 1864 she married Samuel Hardinge Jr., the Union naval officer who had seized her ship. Almost immediately after the marriage Hardinge returned to the United States, perhaps hoping to clear his name of the suspicions of treason attendant on the escape from his custody of and his subsequent marriage to a Confederate agent. He was imprisoned and apparently died sometime after his release in February 1865. The end of the Hardinge marriage and, indeed, the end of Hardinge himself are shrouded in mystery, and some have doubted Boyd's assertion that he never rejoined her abroad.
Author
Pregnant with Hardinge's daughter, Boyd remained in England and turned to writing to support herself. In May 1865, with the assistance of George Augustus Sala, an English journalist who had reported the American Civil War for a London newspaper, she published Belle Boyd in Camp and Prison. The veracity of this highly dramatic two-volume account of her wartime experiences, and of Boyd's exploits more generally, have often been challenged, but following a careful examination of Boyd's text Louis A. Sigaud was able in 1944 to confirm its fundamental accuracy using notes taken from Boyd's papers and corroborating statements from respected contemporaries, chiefly Union and Confederate military figures. Belle Boyd in Camp and Prison appeared in a one-volume edition in New York later in 1865 and was reprinted in 1867, 1968, and 1998.
Public Career
In 1866 Boyd took up acting, first in England and then in the United States after her return to her native country a year later. On 17 March 1869 she married John Swainston Hammond, an English-born businessman who had served in the Union army. They had two sons and two daughters before divorcing in Texas on 1 November 1884. On 9 January 1885 she married Nathaniel Rue High, a young actor from Toledo, Ohio. Boyd's all-but-unbelievable adventures became the basis for her postwar livelihood, and she began touring the country speaking on her wartime experiences. Her popular lectures promoted sectional reconciliation but also inspired imitation, and she occasionally had to identify herself as the real Belle Boyd. Her veracity often challenged and her character at times assailed, she nevertheless supported herself with her lectures about her Civil War exploits. Maria Isabella Boyd Hardinge Hammond High—Belle Boyd to everyone who knew her story—died of a heart attack on 11 June 1900 in Kilbourn City (later Wisconsin Dells), Columbia County, Wisconsin, where she had gone to perform before an audience of members of the Grand Army of the Republic. She was buried in Kilbourn (later Spring Grove) Cemetery.

Sources Consulted:
Louis A. Sigaud, Belle Boyd, Confederate Spy (1944), portraits opp. vii; Belle Boyd in Camp and Prison, ed. with extensive introduction by Curtis Carroll Davis (1968), quotation on 120; Ruth Scarborough, Belle Boyd, Siren of the South (1983); Mary Elizabeth Massey, Bonnet Brigades (1966), 96–98, 184; Louis A. Sigaud Papers, Blennerhassett Island Historical State Park, Parkersburg, W.Va.; United States War Department, The War of the Rebellion: A Compilation of the Official Records of the Union and Confederate Armies (1880–1901), ser. 2, 4:309–310, 349, 461; United States Department of the Navy, Official Records of the Union and Confederate Navies in the War of the Rebellion (1894–1927), ser. 1, 27:687 (giving Harding as spelling of first husband's name); obituaries in Milwaukee Journal, 12 June 1900, and New York Times, 13 June 1900.
Image courtesy of Library of Congress, Brady-Handy Photograph Collection.
Written for the Dictionary of Virginia Biography by Drew Gilpin Faust.
How to cite this page:
>Drew Gilpin Faust,"Maria Isabella 'Belle' Boyd (1844–1900)," Dictionary of Virginia Biography, Library of Virginia (1998– ), published 2001 (http://www.lva.virginia.gov/public/dvb/bio.asp?b=Boyd_Belle, accessed [today's date]).

Return to the Dictionary of Virginia Biography Search page.