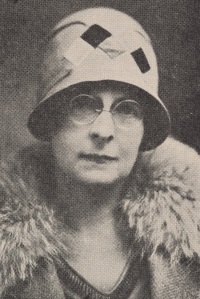 Janet Stuart Oldershaw Durham (14 May 1879–13 March 1969), civic leader and candidate for the House of Delegates, was born in Chicago, Illinois. Her father, Percival Piggatt Oldershaw, a Union army veteran and commission merchant, died in 1886. She spent almost a decade living in Europe with her younger brother and their mother, Florence Stuart Gould Oldershaw, and for a time studied at the University of Geneva. Oldershaw received a Ph.B. from the University of Chicago in 1904. On 27 June of that year she married James Ware Durham, a Baptist minister serving at a church in Pontiac, Illinois. They had no children. The couple later settled in his native Virginia, and from 1907 until 1912 Durham's husband was pastor of Bainbridge Street Baptist Church, in Manchester (part of Richmond after 1910). In September 1908 Durham received a copyright for a play entitled Mortal Mind: A Comedy in Two Acts, a Prologue and an Epilogue. By 1919, after her husband had served congregations in Roanoke and in Erie, Pennsylvania, the couple returned to Richmond.
Woman Suffrage and Politics
While living in Richmond and Roanoke, Durham had become involved in the fight for woman suffrage, joining the Equal Suffrage League of Virginia by 1911. She often spoke at public meetings on behalf of the league, which had been established in 1909 to educate and organize Virginians who supported voting rights for women. In December 1913 she was one of several Virginia women who attended a two-week institute for suffrage advocates in Washington, D.C., where she studied parliamentary procedures, effective lobbying techniques, and how to conduct fund-raising and canvassing efforts. As chair of the program committee for Roanoke's branch of the Equal Suffrage League, she arranged a suffrage demonstration there in May 1914 and later that year was elected the branch's treasurer. In November 1920, several months after the ratification of the Nineteenth Amendment, Durham became a charter member and a director-at-large of the Virginia League of Women Voters, founded to educate women about suffrage and the political process. The following year she competed in the Democratic Party primary as Mrs. James Ware Durham for one of five slots on the ticket to represent Richmond in the House of Delegates. Durham's campaign prompted the state attorney general to rule that women who had registered to vote in their own names could not run for office under the names of their husbands. Using the slogan "Send a Housewife to the House"—perhaps because her campaign coincided with her efforts as treasurer of the Richmond Housewives' League to secure lower food prices—Durham called for improvements in schools, roads, law enforcement, and child welfare. In the balloting on 2 August, she placed eighth in a field of eleven candidates.
In 1922 the governor appointed Durham to a six-year term on the board of the Virginia Home and Industrial School for Girls at Bon Air (later Bon Air Juvenile Correctional Center). The following year she again ran for the House. Durham declared that women's growing participation in politics and business, along with their particular interest in health and education policy, made the election of a female representative desirable. On 7 August 1923, the morning of the Democratic primary, an anonymous advertisement in the Richmond Times-Dispatch called on voters to reject Durham because standards of propriety would prevent a woman delegate from participating in committee meetings held in hotel rooms and lobbies, because she was an outsider and a radical, and because even women's groups had refused to endorse her. That afternoon an editorial in the Richmond News Leader rebutted the personal attacks against Durham. The newspaper dismissed skepticism of female elected officials and cited "the advantage a woman will enjoy in urging a new point of view on legislation." With six spots available on the ticket, Durham finished eighth in a twelve-candidate field.
In 1925 Durham received a master's degree in psychology from Columbia University. She also studied law, passing the state bar examination in June 1925 and earning a B.L. at the University of Richmond's T. C. Williams School of Law in 1926. She opened a legal practice late in the 1920s and specialized in helping female clients. In 1928 Durham wrote a series of articles in the News Leader reporting citizens' suggestions for improving public education in Richmond. She traveled abroad extensively and shared her experiences in lectures and in newspaper interviews.
Beautification Activism
As chair of the billboard restriction committee (later the division of roadside beauty) of the Virginia Federation of Women's Clubs late in the 1920s and in the 1930s, Durham worked to eliminate outdoor advertising along rural highways. With the goals of preserving the natural beauty of the countryside, encouraging tourism, and improving traffic safety, her frequent columns in the Virginia Club Woman urged readers to boycott businesses whose signs littered the landscape and to work for political candidates who supported anti-billboard legislation. Lobbying efforts yielded partial success in 1930, when the General Assembly prohibited billboards near intersections. For the next several years Durham exhorted club women to push for further restrictions, including a tax on signage. She chaired the Virginia Council for the Protection of Roadside Beauty and in 1934 became a life member of the United States Good Roads Association.
Concerned with scenic surroundings in towns as well as along highways, Durham turned her attention to gardening. In 1935 she was elected a vice president of the National Capital Division of the Woman's National Farm and Garden Association, and from that year to 1939 she chaired the division of gardens of the Virginia Federation of Women's Clubs. Durham founded Dogwood Dell, a collection of varieties of the state flower, which opened in Richmond's Byrd Park in 1939. By that year she was chair for horticulture of the Virginia Federation of Garden Clubs, and for several years she dispensed advice through regular columns in the organization's publication, Virginia Gardens. She also served as garden columnist for the Times-Dispatch.
Durham's husband died on 28 September 1956. Janet Stuart Oldershaw Durham died at her home in Richmond on 13 March 1969 and was buried in the cemetery of Howertons Baptist Church, in Essex County.

Sources Consulted:
Birth date, birthplace, and parents' names in Death Certificate, Richmond City, Bureau of Vital Statistics, Commonwealth of Virginia; Bloomington, Ill., Weekly Pantagraph, 1 July 1904; Alexandria Gazette, 20 Dec. 1913; Richmond Evening Dispatch, 8 Apr. 1921 (first quotation); Washington Post, 22 Apr. 1921, 18 Dec. 1931; Richmond Times-Dispatch, 13 July 1921, 7, 8 Aug. 1923, 27 June 1925, 23 May 1927 (portrait), 20 Sept. 1934; Richmond News Leader, 3 Aug. 1921, 7 Aug. 1923 (second quotation), 28 May 1928, 28 Aug. 1931; Virginia Club Woman 1 (Jan./Feb. 1929): 18 (portrait); ibid. 1 (May/June 1929): 27–28; ibid. 2 (Mar./Apr. 1930): 10; ibid. 4 (Sept./Oct. 1931): 12; Commonwealth 2 (Jan. 1935): 15; Virginia Gardens 4 (Apr. 1939): 4–5; Etta Belle Walker Northington, A History of the Virginia Federation of Women's Clubs, 1907–1957 (1958), 166–167; obituaries in Richmond News Leader and Richmond Times-Dispatch, both 14 Mar. 1969.
Image courtesy of the Library of Virginia.
Written for the Dictionary of Virginia Biography by Jennifer R. Loux.
How to cite this page:
>Jennifer R. Loux,"Janet Stuart Oldershaw Durham (1879–1969)," Dictionary of Virginia Biography, Library of Virginia (1998– ), published 2016, updated 2017 http://www.lva.virginia.gov/public/dvb/bio.asp?b=Durham_Janet_Stuart_Oldershaw, accessed [today's date]).

Return to the Dictionary of Virginia Biography Search page.