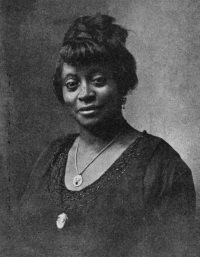 Emma Virginia Lee Kelley (8 February 1867–14 December 1932), civic and fraternal leader, was born in or near the town of Eclipse, in Nansemond County (later the city of Suffolk), Virginia, and was the daughter of John Lee, an oysterman, and Agnes Walker Lee. She grew up in nearby Barrett's Neck, was educated in public schools, attended Hampton Normal and Agricultural Institute (later Hampton University), and became a teacher. She married Robert Kelley, in Nansemond, on 16 May 1893 and they later moved to Norfolk. They had one daughter.
Her husband was likely the Robert Kelley who died in Norfolk on 1 January 1903. Kelley had to work to support herself and her daughter, and census enumerators and city directories identified her at various times as a worker in a tobacco factory, a laundress, a domestic worker, and a maker of regalia for fraternal organizations. Kelley became immersed in church and community causes and a civic leader in the city's African American community. In 1902 she became president of the Missionary Circle of Queen Street Baptist Church, one of the city's foremost black congregations. She served for thirty years, reorganized the work several times, and was also superintendent of the Sunday school for more than twenty years and a deaconess at the time of her death. Tradition records that in the early years, Kelley took a horse-drawn wagon to pick up children and drive them to church.
Impressed by the fraternal success of the Improved Benevolent and Protective Order of the Elks of the World, Kelley and twelve other Norfolk women formed a women's auxiliary on 13 June 1902 to assist the men in their work. As she explained, "We well know that it was never intended for men to be alone." The auxiliary disbanded after three months, but on 25 October, Kelley organized women for the second time and founded Norfolk Temple, No. 1, of the Daughters of the Elks Auxiliary as an organization for the benefit of women as well as men. Motivated by the poverty and suffering she witnessed regularly in her community, Kelley saw her mission as lifting up African American women "bowed down with despair for they saw a bleak future without hope." This time, the enterprise succeeded and by July 1903 had enrolled about forty members. Following her lead, women organized other temples elsewhere. At an Elks conference in Atlantic City in 1904, representatives of six temples attended. Their stated purpose was to form a national and international organization "to give moral and material support" to women of "sound bodily health and good moral character." For more than twenty years, Kelley traveled throughout the country to help women form temples.
She continued her activism locally as well and became a director of the Norfolk Metropolitan Bank and Trust Company, treasurer of the Colored United Charities, and a trustee of the Norfolk Community Hospital, while also raising two foster daughters. During the first World War, Kelley served as secretary of an organization established to assist widows and orphans of African American soldiers killed on the battlefields of Europe.
Kelley also exhibited fortitude in registering to vote in September 1920, almost immediately after ratification of the Nineteenth Amendment. African American women had not taken a public role in the campaign for the vote in Virginia, but thousands of them paid their poll taxes and registered to vote at the first opportunity. They faced serious obstacles in many places, especially in Norfolk and elsewhere in southeastern Virginia. When Kelley, Rebecca Pride Bowling, and Bessie Morris arrived at the registrar's office, the registrar asked them several questions about the Constitution of the United States: "When may the writ of habeus corpus be suspended?" "In what year was the Constitution of the United States adopted?" "How long can the House of Representatives take recess without the consent of the Senate?" He ruled some of their answers incorrect and refused to register them. Kelley and her friends each hired a local African American attorney and appealed the registrar's decision. Testifying in Corporation Court, the registrar himself answered incorrectly when asked for the date of the Constitution's adoption. The judge ordered the women registered as of the date on which they had been examined and refused. A poll tax list shows that Kelley was among 207 black women and about 2,700 white women in Norfolk qualified by payment of poll taxes to vote in the November 1920 elections. The following April, Kelley spoke at a voter registration drive for African American women in nearby Newport News.
Throughout her later life, Kelley was held in high esteem by the national Daughter Elks and during the 1920s came to be widely known as Mother Kelley. Until her death in 1932, she served with the title Grand Daughter Secretary, a largely financial post to which she was reelected annually by acclamation. In 1923 the group added the honorary title, Supreme Mother of Daughter Elks. At the twenty-fifth anniversary of the founding of the grand lodge of the Daughter Elks, members meeting in New York showered Kelley with a crown, a throne, flowers, and an assortment of gifts, including a bouquet of silver roses with a silver dollar suspended from the stem of each rose and an umbrella covered with money. By the end of the decade, the Daughters had temples at many of the hundreds of Elks lodges in the Americas, West Indies, and Africa. In 1926 Kelley published a short history of the daughters entitled Kelley's History of the Daughters of I.B.P.O.E.W., which was reprinted in 1931 and which her daughter revised for new editions in 1943 and 1961. Kelley's daughter, Buena Vista Kelley Berry, worked closely with her in various church, civic, and fraternal causes and after her death succeeded her as secretary of the Daughter Elks.
Emma Virginia Lee Kelley had cancer when she died after an operation for peritonitis on 14 December 1932 at a Norfolk hospital. She was buried in Calvary Cemetery in the city. Her death merited a banner headline in the city's African American newspaper, the Journal and Guide. So many people, including Elks officials from distant cities, crowded into the city for her funeral that the crowd flowed out into the street, and a man with a newsreel camera filmed the event. A noted local minister, Richard Hausber Bowling, who was one of the speakers at the funeral, complained the following week that the brief obituary in the Norfolk Ledger-Dispatch, the city's afternoon daily newspaper, conspicuously failed to accord Kelley the dignity of identifying her as Mrs., an omission common for African American women at a time when all white women regardless of class were identified as Miss or Mrs. Reflecting on Kelley's local and national importance, Bowling commented, "If Mrs. Emma Virginia Kelley was not worthy of being called Mrs. Kelley, then what woman of color could ever hope to be so styled?" The following year the Elks dedicated a memorial in the cemetery in honor of Kelley and her work, and her daughter and the church later established a memorial scholarship in her name.

Sources Consulted:
Biographies in A. B. Caldwell, ed., History of the American Negro, vol. 5: Virginia Edition (1921), 500–501 (portrait), Charles H. Wesley, History of the Improved Benevolent and Protective Order of Elks of the World, 1898–1954 (1955), 63–67, first quotation on 65, third quotation on 66, and Daughters of Improved, Benevolent, Protective Order of Elks of the World, The Golden Jubilee Celebration, 1902–1952 (1952), esp. 7–9 (second quotation on 8); self-reported birth date and birthplace in passport application, 10 Feb. 1922, General Records of the Department of State, Record Group 59, National Archives and Records Administration, Washington, D.C.; Marriage Register, Nansemond Co. (with age twenty-three on 16 May 1893), Bureau of Vital Statistics (BVS), Commonwealth of Virginia Department of Health, Record Group 36, Library of Virginia; Historical Commission of Queen Street Baptist Church, Queen Street Baptist Church, Norfolk, Va.: 90th Anniversary, 1884–1974 (1974), 10–11, 16, 33; Kelley, Kelley's History of the Daughters of I.B.P.O.E.W. (1926) and several revised editions; Georgia Archer tribute and career summary, Norfolk Journal and Guide, 4 June 1927; Norfolk Journal and Guide, 6 Nov. 1920 (fourth quotation), in Tuskegee Institute News Clipping File, Reel 12; death date on BVS Death Certificate (with variant 1875 birth year); obituary with death date in Norfolk Ledger-Dispatch, 15 Dec. 1932 (with erroneous age fifty-seven); obituary, editorial tribute, and account of funeral in Norfolk Journal and Guide, 17, 24 Dec. 1932; Richard Hausber Bowling tribute in Norfolk Journal and Guide, 24 Dec. 1932 (fifth quotation).
Image courtesy of Schomburg Center for Research in Black Culture, Jean Blackwell Hutson Research and Reference Division, New York Public Library Digital Collection.
Written for the Dictionary of Virginia Biography by Margaret Edds.
How to cite this page:
>Margaret Edds, "Emma Virginia Lee Kelley (1867–1932)," Dictionary of Virginia Biography, Library of Virginia (1998– ), published 2019 (http://www.lva.virginia.gov/public/dvb/bio.asp?b=Kelley_Emma_Virginia_Lee, accessed [today's date]).

Return to the Dictionary of Virginia Biography Search page.